This Week on


Originally Broadcast September 20th, 2002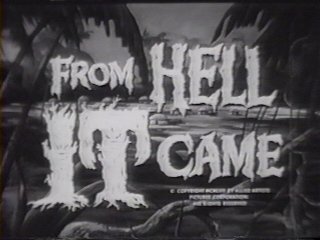 Radiation and the mid-50s began to breed some strange mutations, but none were as memorably bad as the "Tabonga," the walking tree-monster from the 1957 classic "From Hell It Came." Even as a kid, I found this rubbery monstrosity pretty amusing (the screeching music score by Darrell Caulker scared me more). Paul Blaisdell's goofy creation has become the stuff of z-movie legend, even to the point of becoming a Bilikin hard cast resin hobby kit (a pricey one, I might add).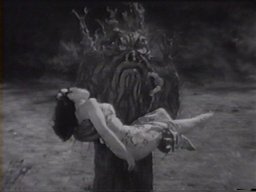 The slim story regarding a radiated pacific atoll that spawns a mutant tree stump takes awhile to get going, but the pay off comes when a team of scientists uproot the Tabonga. Watching the clumsy rubber atrocity waddle after native men in skirts or shuffle off with the heroine (check out her screaming) is pure joy and shouldn't be missed.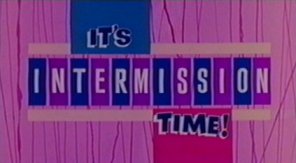 This particular episode of Dumpsterpiece Theatre is the direct result of a viewer writing to us with a request...
so keep 'em coming and we'll keep digging them up!
See ya Friday Night!