Originally broadcast June 14th, 2002,
the fourth and final film in our
"eye-hand coordination" series ...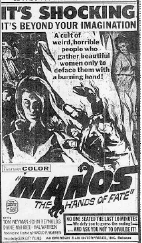 Manos, The Hands of Fate, is easily the worst of the lot. In fact, it's easily the most amateurish, clumsily made film I've ever seen...and it's a lot of fun.
For some unexplained reason, a young couple and their daughter are out on this car trip to nowhere when all of a sudden they take a wrong turn and get lost...in the boonies...in Deliverance country. There they come across an eerie old house with an imbecilic caretaker who rants about an unseen 'Master.'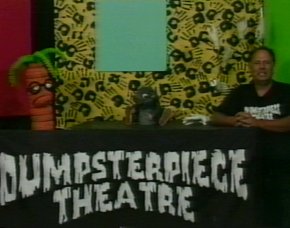 Director Hal Warren (who also stars as Michael) appears to know nothing about editing or continuity, which explains the constant jumping of characters from one side of the frame to the other with no logical reason or progression. If that isn't bad enough, his day-for-night fails about half the time, so you get that jump from light to dark that barely resembles any time of day.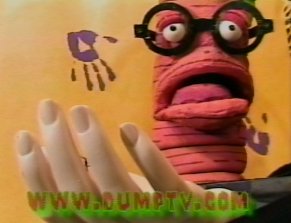 So if you have a passion for watching for flubs and errors in films, this one is a real find. Within the first 7 minutes of the picture, you can see the sound man's clapper board streak across the right hand side of the screen; some flubs are that obvious. And it's all in glorious color- a rarity here on Dumpsterpiece Theatre.