Charity Mardi Gras Party Ideas
Recipes, Costumes, Decorations,
and Fund Raising for Hurricane Relief


Laissez le bon temps rouler!
(Let the good times roll!)

Mardi Gras has been a popular spring-time party theme for generations. Since hurricane Katrina hit in 2005, Mardi Gras has taken on deeper meaning for me, and your Mardi Gras party, any time of year, is an excellent way to raise funds for those in need in the gulf coast region of the US.

Victims of those hurricanes still need your help!
Mardi Gras is a fun party theme for birthdays, graduation,
prom, retirement, or just an excuse to party for a good cause!

ABOUT MARDI GRAS:
Mardi Gras is an annual celebration that takes place each February in Louisiana for a two and a half week period ending with Fat Tuesday and the beginning of Lent. The Mardi Gras season begins on January 6 and continues until Fat Tuesday, the day before Ash Wednesday. Mardi Gras is set 46 days prior to Easter. All across Louisiana, Mardi Gras traditions are celebrated differently depending on one's location and background. In New Orleans, Mardi Gras social clubs (Krewes) host a number of lavish costume balls and lead grand parades with massive floats throughout the city. In Cajun country, bands of costumed revelers on horseback ride through the countryside chasing chickens and gathering ingredients for a community gumbo to be served at the Mardi Gras fais-do-do.

WHY HELP?
Years since Katrina & Rita hit, yet thousands upon thousands of people are still displaced.
School districts are closed and entire cities are shut down.
People are still living in FEMA trailers. People are being plowed by insurance bureaucracy.
It's not in the news everyday, but these people still need our help.

I've always had an affinity for New Orleans. I've never been there, so it's like a "fantasy" town to me, a style, a culture, an atmosphere, a land at disneyland, rather than an actual urban city. I love the architecture, the music, and the local customs. My husband and I, for years, have talked about spending Christmas in New Orleans. I've learned so much about the area since the storm. I've had New Orleans themed decor in my kitchen, mugs and art, for ages - I still want to visit someday. I hope and pray that this wonderful historic city gets back on its feet very soon. ~ God Bless ~ Nancy
READ MORE: Hurricane Katrina: Killer, Destroyer of Cities and Homes and Lives A photo narrative by Linda Saxon Nix Biloxi, MS

WHO TO HELP:
By contacting the charity that you choose to benefit - before the party - They may be able to send you brochures or a video about their work.

*You can choose your charity before the party, or you could hold a raffle, where the winners get to choose the recipients of your donation. Be sure to include charity information in your invitations - so that even those who cannot attend, can still make donations.
I like to use small locally-based organizations, such as churches and community projects.
The big, national, organizations tend to spend my small donations for junk-mailing. >:(

NEW ORLEANS MUSICIAN'S RELIEF FUND

Acadiana Outreach Center A non-profit outreach shelter, providing support to hundreds of men, women and children (even before the hurricanes hit). Currently they are providing shelter to evacuees, serving as the local distribution point for supplies to all other shelters in Lafayette


Katrina's Angels An agency coordinating jobs, homes, and resources for the survivors of Hurricane Katrina

Gulf Coast Community Foundation - committed to meeting the needs of the people of South Mississippi.

Community Center of St Bernard offers a non-political, nondenominational, safe and inclusive space to assist residents in their return home, where they can gather to reconnect as they rebuild their lives, businesses and neighborhoods.
PO Box 1146 St. Bernard Parish, LA 70085


Greater New Orleans Foundation: www.gnof.org ... click on Hurricane Katrina Recovery Fund.

Grassroots Hurricane Katrina Relief - an excellent source for finding smaller organizations

Louisiana Environmental Network Local health assistance to evacuees, long-term clean-up of NOLA.

FoundationsForRecovery.org is an internet portal established by the Baton Rouge Area Foundation to report to its donors and the greater community on its Hurricane Katrina relief efforts.

Project HEAL (Helping Employ Artists Locally) assists artists impacted by Hurricanes Katrina and Rita by providing displaced artists employment opportunities in local communities.

INVITATIONS & CLIP ART:
I cannot stress enough the importance of including
the charity information on the invitation.
Your guests will be happily prepared for donating,
if they know in advance of the party.
Alternate Party Titles & Phrases:
"Mercy-Gras"
"Party with a Purpose"
"Beads for Needs"
"Hearty-Gras" - use hearts for decoration - sell hearts pins, etc.
"Mission: Mardi-Gras"
"Pardi-Gras" - a term that Disneyland used for a parade, its cute.
... or spelled "Party Gras"
Sample fundraising wording for your invitations:

"All proceeds from the nights event will be donated to New Orleans recovery organizations"

"You are cordially invited to attend The Women's Club Mardi Gras Fundraiser, benefiting Gulf Coast Charities"

"The Hometown Corporation cordially invites you and a guest to attend its annual
Mardi Gras fundraiser to benefit The Katrina Rebuilding Foundation"
Mardi Gras Clip Art & Printables:

Miss Pita's Domain

Printable Mardi Gras masks

Lara's Mardi Gras clip art


Find the perfect invitation or announcement for any occasion.
Personalize, preview, and order right on the spot to be delivered in days.

FUNDRAISING:

You can either charge for tickets to your party, or, collect donations at the party itself with raffles or other party games. Ticket prices vary greatly by the formality of your party. For a casual party, I might not charge admission, but for a catered affair, I would charge at least three or four times the price of the individual meals, or you can give a slight discount for the purchase of an entire table. Again, make sure the invitation is clear - this is a fundraising event.

"Beads for Needs" - sell Mardi Gras Beads
at your party for $2 or $3 a strand, depending on the income level of your guests, you may consider charging up to $10 or $50 for beads! (It's for charity, people!!) The item cost on these beads is very reasonable, and this has become a very popular fund raising tool for organizations all over the country since the hurricanes.

If you are celebrating someone's birthday, you might suggest that guests make donations in lieu of gifts, and let the birthday-honoree choose the charity.

Auction - Offer New Orleans themed gifts, trips, and baskets - either a silent auction or traditional style - and if you can get these auction items donated, all the better.

Bead Toss - For a donation, player gets to try to toss a strand of beads around the prize they want

Guess the # - Fill a large jar with strands of beads, or colorful coins, and charge $1 per guess, the closest guess wins a prize

Many other carnival style games can be themed to Mardi Gras. Use plastic gold doubloons instead of tickets!!

50/50 raffle - after selling raffle tickets, half the money goes to the winner of the raffle, and the other half goes to the charity.

Before the party, decorate several postal envelopes with stamps & addresses of charities, and attach them to festive party favors. This allows the guests to make additional donations at their own convenience, after the party as well....

Several schools around the US have held fundraisers of all types - lots more ideas

RECIPES: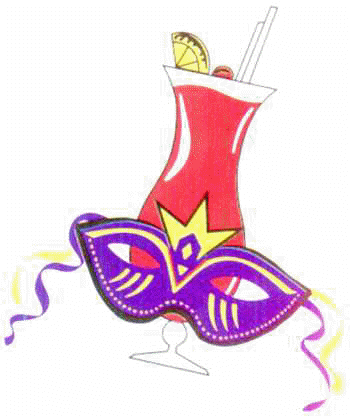 A typical Mardi Gras menu includes a variety of cajun and traditional southern dishes.
Drinks


Hurricanes, Mint Julep


Cocktails and Libations of New Orleans

Appetizers, Sides, & Salads


New Orleans Rice Salad


New Orleans Style Olive Salad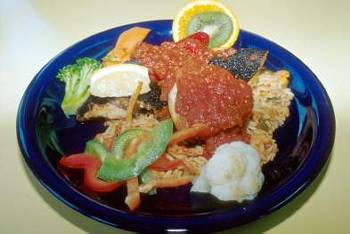 CAJUN DIRTY RICE
1 pound ground beef
1 pound beef sausage
1 (8-ounce) package dirty rice mix
1 (10-ounce) can diced tomatoes with green Chile peppers
1 onion, finely diced
2 (15-ounce) cans kidney beans, drained
2 cups water
salt and pepper to taste
In a skillet, brown the sausage, onion, and ground beef; drain. In a 2 quart saucepan, combine rice mix and 2 cups water.
Add diced tomatoes and chilies. Stir in the kidney beans. Bring to a boil, then add meat mixture.
Bring back to boil, reduce heat and cover, stirring occasionally. Cook for 20 minutes. Serve. Makes: 8 servings
Main Course


Mardi Gras Stuffed Pork Roast


Jambalaya
Cajun Prime Rib
4 lb Prime rib roast (10-1/2 lbs)
1/4 c Garlic powder
2 Onions, thinly sliced
1/4 c Black pepper
1/4 c Salt
SEASONING MIX (OPTIONAL)
1 tb Plus 1 tsp, salt
1 tb Plus 2 tsp, fennel seeds
2 1/2 ts Dry mustard
1 tb Plus 2 tsp, white pepper
1 tb Plus 3/4 tsp, black pepper
2 1/2 ts Ground cayenne pepper
Remove fat cap off top of meat (butcher can do this for you) and save. Place the roast, standing on the rib bones, in a very large roasting pan. Then with a knife make several dozen punctures through the silver skin so seasoning can permeate meat. Pour a very generous, even layer of black pepper over the top of the meat (the pepper should completely cover it); repeat with the garlic powder, then the salt, totally covering the preceding layer. Carefully arrange the onions in an even layer on top so as not to knock off the seasoning. Place the fat cap back on top. Refrigerate 24 hours. Bake ribs in a 550F oven until the fat is dark brown and crispy on top, about 35 minutes. Remove from oven and cool slightly. Refrigerate until well chilled, about 3 hours. (this is done so the juices will solidify and the steaks can be cooked rare.) Remove fat cap and discard. With the blade of a large knife, scrape off the onions and as much of the seasonings as possible and discard. Then with a long knife, slice between ribs into 6 steaks (4 will have bones); trim the cooked surface of meat from the 2 pieces that were on the outside of the roast. Season and cook in your favorite way for steaks.
TO BLACKEN THE STEAKS: Combine the ingredients of the seasoning mix thoroughly in a small bowl; you will have about 8 tablespoons. Sprinkle the steaks generously and evenly on both sides with the mix. using about 4 teaspoons on each steak and pressing it in with your hands. Heat a cast iron skillet over very high heat until it is beyond the smoking stage and you see white ash on the skillet bottom--at least 10 minutes. (The skillet cannot be too hot for this method.) Place one steak in the hot skillet (cook only one side at a time) and cook over a very high heat until the underside starts to develop a heavy, black crust, about 2 to 3 minutes. Turn the steak over and cook until the underside is crusted like the first, about 2 to 3 minutes more. Repeat with the remaining steaks. Serve each steak while piping hot.
Desserts


Beignets


Pralines


Bananas Foster

King Cake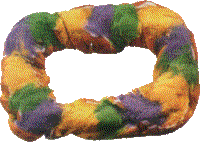 The King's Cake has its roots in pre-Christian religions of Western Europe. It was customary to choose a man to be the "sacred king" of the tribe for a year. That man would be treated like a king for the year, then he would be sacrificed, and his blood returned to the soil to ensure that the harvest would be successful. The method of choosing who would have the honor of being the sacred king was the King's Cake. A coin or bean would be placed in the cake before baking, and whoever got the slice that had the coin was the chosen one.
Today, a plastic baby is served inside the cake, and the tradition is that whoever gets the baby has to bring in the next king cake, or throw the next party. Eating king cakes is the main Carnival activity between Twelfth Night and the start of parades more king cake lore
This is an excellent way to give away a door prize at your party - whoever gets the baby in their slice of cake wins a prize!!
Here's an excellent King Cake recipe, provided courtesy of Chef Emeril Lagasse.
* 2 envelopes active dry yeast
* 1/2 cup granulated sugar
* 1/4 pound (1 stick) unsalted butter, melted
* 1/2 cup warm milk (about 110°F)
* 5 large egg yolks, at room temperature
* 4 1/2 cups bleached all-purpose flour
* 2 teaspoons salt
* 1 teaspoon freshly grated nutmeg
* 1 teaspoon grated lemon zest
* 1 teaspoon vegetable oil
* 1 pound cream cheese, at room temperature
* 4 cups confectioner's sugar
* 1 plastic king cake baby
* 5 tablespoons milk, at room temperature
* 3 tablespoons fresh lemon juice
* Purple-, green-, and gold-tinted sugar sprinkles

Combine the yeast and granulated sugar in the bowl of a stand mixer fitted with a dough hook. Add the melted butter and warm milk. Beat at low speed for 1 minute.
With the mixer running, add the egg yolks, then beat for 1 minute at medium-low speed. Add the flour, salt, nutmeg, and lemon zest and beat until everything is incorporated. Increase the speed to high and beat until the dough pulls away from the sides of the bowl, forms a ball, and starts to climb up the dough hook.
Remove the dough from the bowl. Using your hands, form the dough into a smooth ball. Lightly oil a bowl with the vegetable oil.
Place the dough in the bowl and turn it to oil all sides. Cover with plastic wrap and set aside in a warm, draft-free place until doubled in size, about 2 hours.
Meanwhile, make the filling. In a large mixing bowl, combine the cream cheese and 1 cup of the confectioner's sugar. Blend by hand or with an electric mixer on low speed.
Set aside. Line a baking sheet with parchment paper. Turn the dough out onto a lightly floured work surface. Using your fingers, pat it out into a rectangle about 30 inches long and 6 inches wide. Spread the filling lengthwise over the bottom half of the dough, then flip the top half of the dough over the filling.
Seal the edges, pinching the dough together. Shape the dough into a cylinder and place it on the prepared baking sheet seam side down. Shape the dough into a ring and pinch the ends together so there isn't a seam. Insert the king cake baby or pecan half into the ring from the bottom so that it is completely hidden by the dough.
Cover the ring with plastic wrap or a clean kitchen towel and place in a warm, draft-free place. Let the dough rise until doubled in size, about 45 minutes.
Meanwhile, preheat the oven to 350°F. Brush the top of the risen cake with 2 tablespoons of the milk. Bake until golden brown, 25 to 30 minutes.
Remove from the oven and let cool completely on a wire rack. Make the icing. Combine the remaining 3 tablespoons milk, the lemon juice, and the remaining 3 cups confectioner's sugar in medium-size mixing bowl. Stir to blend well. With a rubber spatula, spread the icing evenly over the top of the cake.
Sprinkle with the sugar crystals, alternating colors around the cake. The cake is traditionally cut into 2-inch-thick slices with all the guests in attendance.
YIELD: 20 to 22 servings
More Recipes:


RECIPES FROM THE CITY OF EUNICE, LOUISIANA



A blog dedicated to New Orleans & Louisiana cooking



Tabasco.com has recipes, party ideas, and a free Mardi Gras screen saver!



Mardi Gras Madness!. ..A full menu of Trim & Terrific recipes including: Barbecue Shrimp, Chicken And Sausage Jambalaya,
Mardi Gras Punch, Mardi Gras Salad, Pineapple Bread Pudding With Lemon Apricot Sauce, King Cake
CELEBRATE
MARDI GRAS!
WITH CAJUN COOKING
- this is a really festive and informative recipe site,
put together by school kids, or maybe a teacher -
which includes recipes for the following:

BAYOU FISH FRY
BEIGNETS
CAJUN POPCORN (CRAWFISH)
CHICKEN AND SAUSAGE JAMBALAYA
CRAWFISH CORNBREAD
DAWN'S QUICK SHRIMP CREOLE
EASY BANANAS FOSTER
EASY CUBAN SANDWICHES
FRIED ALLIGATOR
HURRICANE
EASY KING CAKE
MARDI GRAS SPARKLER

MINT JULEP
PRALINE COOKIES
RED BEANS AND RICE
DRESSED SEAFOOD
PO'BOYS
GREEN MUFFALETTAS
CHICKEN, PORK, AND SMOKED JAMBALAYA
NEW ORLEANS SHRIMP DIP
BEER BOILED SHRIMP WITH COCKTAIL SAUCE
MARDI GRAS BACARDI HURRICANE®
BAKED GRITS AND CHEESE
HUSH PUPPIES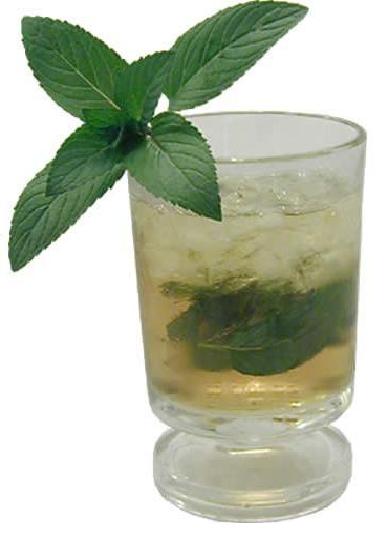 Mint Juleps
The Mint Julep is a powerful and refreshing drink that is often enjoyed during the hot summer months of New Orleans.
* 3 oz. Bourbon
* 1 tsp. simple syrup or 1 tsp. refined sugar
* 10-15 large fresh mint leaves
* Crushed ice
I n a Collins glass, put in all but 2 of the mint leaves. Then add the simple syrup. (If you choose to use refined sugar, add a splash of water in the glass as well.) Next, muddle the sugar and mint leaves in the bottom of the glass. Fill the glass with crushed ice and then add the bourbon. Gently stir the drink and then garnish with the left over mint leaves. Serves 1.

COSTUMES:

Sparkle Jester, Mardi Gras - $ 22.99
Jester-style hat with a shimmering green, purple and gold design

From: Costume-Party-Shop.com

Sparkle Mardi Gras Mad Hatter - $ 22.99
Sparkle Mardi Gras Style Hat in Green, Gold, and Purple

From: Costume-Party-Shop.com

Mardi Gras Lame Jester - $ 33.99
Shiny Lame' fabric Jester hat with three points in Green, Purple, and Gold

From: Costume-Party-Shop.com
.....

CRAFTS & DECORATIONS:

The traditional Mardi Gras colors represent

JUSTICE (purple),
FAITH (green),
and
POWER (gold).


Use metallic streamers, mylar balloons, and confetti in these colors to create a festive carnival atmosphere.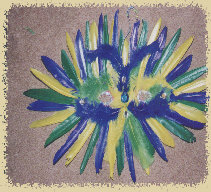 Click here for instructions to make this MARDI GRAS FEATHER MASK
(sorry about the annoying advertising on that page, it's not mine)

French Quarter Soiree Kit --Rendezvous On Bourbon Street Kit-- Midnight Masquerade Kit Components --A Night on Bourbon Street Kit --Masquerade Kit --t Mardi Gras Mask--2' x 4' --Bourbon Street Giant Mask--5' x 5 1/2' -- Calypso Island Kit Components -- Lighted Masquerade Arch Lighted Masquerade Arch Masquerade Columns --Masquerade Masks -- Lighted Masquerade Mask -- Comedy / Tragedy 3D Glitter Masks -- -- Mardi Gras Mambo Kit Wall Graphics and many more Mardi Gras decor items at Stumps Prom & Party
Mardi Gras Crafts & Directions
* "Have a Heart" Mardi Gras Pins * Mardi Gras Yarn Bug * Mardi Gras Visors
* Mardi Gras Half Mask * Mardi Gras Mini Float * Mardi Gras Masks * Jester's Hat


MARDI GRAS MUSIC:

Consider hiring a Dixieland Band - Click here to find one in your area


or perhaps you are looking to hire a Zydeco Band in your region?
Instant Downloads also available at BUY.COM
Hey! Hey! Mardi Gras
Mardi Gras In New Orleans (LP Version)
Mississippi Suite Mardi Gras
and many more!

NEW ORLEANS THEMED DOOR PRIZES & GIFTS:
You also help when you support Louisiana businesses:



B-Native.com is dedicated to bringing together select items that are created in New Orleans, by New Orleanians, or items that bring awareness to our city.


---

---


The New Orleans Craft Mafia consists of several independent artists in a variety of media: jewelry, clothing, accessories, home decor, and more.

NewOrleansMask.com

Hand Made Collectable and Wearable Masks by Dalili

636 Royal St

New Orleans, Louisiana 70130

Buy mardi gras posters, zydeco cajun music, and New Orleans collectibles. Mardi Gras, Cajun, Zydeco, Blues, Jazz posters and CDs. French Quarter Masks, Cookbooks, and more from New Orleans.

neworleansproducts.com

Treat your Guests to a Delicious Louisiana Creole Fruitcake
blended with the World's Finest fruit, pecans and spices.
CREOLE/ACADIAN DELIGHT BAKERY

sorry this store was never able to reopen after the hurricanes

save nola sportswear

Hats, shirts, prints and more - The items are created, made and promoted by a group of native New Orleanians who lost their homes and personal possessions. 100% of the net proceeds will go to organizations dedicated to building, rebuilding or "greening" homes in New Orleans.


Sweet Charlotte's of New Orleans

sorry this store was never able to reopen after the hurricanes


Great cajun food, books, Mardi Gras king cakes, gifts & more at everyday low prices!
New Orleans Showcase


nolaposters.com

Created By Mechel - Ceramic Cigarette Snuffers, Ashtrays & Dance Gifts


The New Orleans Jazz Vipers

New Orleans Gift Baskets with everything from Louisiana shirts, hurricane mixes and beignets, to cajun and creole spices from New Orleans

Corsair Neckwear Co. Inc.
has been supplying ties since 1950.

This business was in New Orleans (pre-Katrina), now they are in Denham Springs, LA & they're donating $10 from each Katrina Tie sale to New Orleans Area Habitat for Humanity Fund.

Conversation-starting New Orleans tee's


RedBagCollection.Com

MORE MARDI GRAS PARTY/FUNDRAISER LINKS:

Some photos of a Mardi Gras fundraiser at the Bootheel Youth Museum in Malden, Missouri

Photos from Omega Psi Phi Fraternity's, 3rd annual Mardi Gras fund raiser

Madcap Mardi Gras - Downtown Sandpoint, Idaho - Several Event Ideas

Photos from the St. Thomas More Mardi Gras Dance 2003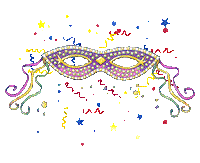 Thanks for visiting!
If you still have questions, get the answers you need when you visit my
"holidaze" chat room

I love to give party planning advice... - I'm online whenever I'm not at work or asleep, but by chance if I'm not online, you can leave your questions there for emailed responses, usually in 24 hours or less!
-Nancy
Thanksgiving - Halloween - Easter - Valentines - Summer Parties