Magazines are the perfect last minute gift - simply print your personalized gift card after you order!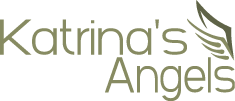 A note from Nancy: I've always had an affinity for New Orleans. I've never been there, so it's like a fantasy town to me, more of a style, a culture, an atmosphere, than an actual urban city.
My husband and I, for years, have talked about spending Christmas in New Orleans. This webpage may be as close as we ever get. I've learned so much more about the area since the storm. I don't think I'd ever want to live there, but I still love the style, the music, and the HEART of this great city. I've had New Orleans themed decor in my kitchen, mugs and art, for ages - I still want to visit someday. I hope and pray that this historic city gets back on its feet and the residents, that return, have many blessed holiday seasons. Below I've listed some Lousiana based businesses - a great place to do some shopping, and help rebuild the area at the same time.
Some of the holiday events on this page may or may not be cancelled due to storm damage, but I've listed them in the hopes that they will go on as planned, and the culture of New Orleans soon comes back to thrive.
Please consider sending a holiday donation to a displaced New Orleans family!
~ God Bless ~

"Jingle, Jangle, Jingle, here comes Mr. Bingle
with another message from Kris Kringle.
Time to launch the Christmas season.
Maison Blanche makes Christmas pleasin'.
Gifts galore for you to see.
Each a gem from MB."

Sean Doles' Saving Mr. Bingle details the life of one of New Orleans' favorite Christmas traditions. Ever since 1948, Mr. Bingle has been a part of the Christmas tradition in New Orleans. The little guy was the creation of Emile Aline, a window decorator at the old Maison Blanche department store on Canal Street, and the man who made the doll come to life and gave him a voice was Edwin H. "Oscar" Isentrout, a local puppeteer.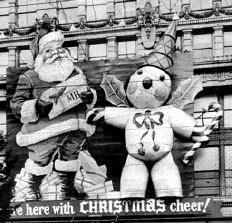 When Christmas rolled around, Maison Blanche erected the giant papier-mache mannequin in front of the store, and Mr. Bingle would perform for the kids on the third-floor stage. He even had his own television show for a time. Isentrout died in 1985, and he had to be buried in an unmarked grave. Recently, Sean Patrick Doles had written a work titled Saving Mr. Bingle: A New Orleans Christmas Fairy Tale
. He is donating some of the profits to provide a gravestone for the puppeteer as well as a plaque to go on the wall of the Ritz-Carlton, the site of the old Maison Blanche. - BLAKE PONTCHARTRAIN™
Who? What? is a Mr. Bingle you say?
Bingleland! A memorial tribute to Mr. Bingle, Oscar Isentrout, and Emile Alline - For friends, fans, historians and collectors of this New Orleans cultural icon doll named Mr.Bingle, a southern Christmas tradition for years. With historical vintage photos.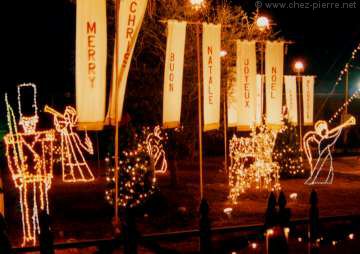 Noël à la Nouvelle-Orléans, c'est magique


| | |
| --- | --- |
| There are a large range of festivities at "Christmas New Orleans Style" Free nightly concerts at St. Louis Cathedral presented by local musicians; cruising the Mississippi on a paddlewheel steamer singing Christmas carols; watching the blazing lights of bonfires along the levees; carriage rides under New Orleans' stately moss-draped oaks; running into Papa Noel and Mary Christmas as they roam the French Quarter; tours of antebellum homes; children's crafts workshops and even teas; free cooking demonstrations by the city's best chefs. The town gets behind the festival by offering prix fixe dinners that take guests through a traditional holiday Reveillon dinner, and hotels, eager to pump up winter trade, offer attractive "Papa Noel" rates well below rack. - New Orleans: A Crescent City Christmas | |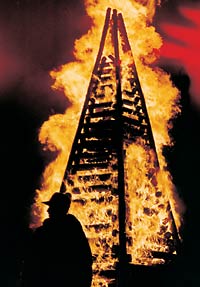 A Louisiana tradition for more than 2 centuries, the feux de joie (fires of joy) bonfires are set ablaze to light "Papa Noel's" way down to the bayous. Along the Mississippi River between New Orleans and Baton Rouge, locals build teepees, houses, riverboats, and cabins on the levees. Building for more than a month, some of the structures are very elaborate and detailed, rising more than 40 feet in the air. In recent years there have been almost 100 fires burning along the levees. New Orleans, Louisiana Travel Guide
The Annual Festival of the Bonfires is held at the Knights of Columbus Fairgrounds in Lutcher, LA.
Glittering Oaks and Bonfires on the Levee: A Creole Christmas

If you're looking for a little Creole to season your holiday -
A Creole Christmas Life is Merry in New Orleans!

David Michael Burrow Christmas in Dixie Travelogue
- Gulf Coast & New Orleans, 2001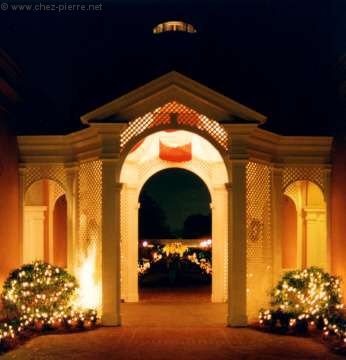 "One morning-it was December, I think, a cold Sunday with a sad gray sun-I went up through the Quarter to the old market where, at that time of year, there are exquisite winter fruits, sweet satsumas, twenty cents a dozen, and winter flowers, Christmas poinsettia and snow japonica. New Orleans streets have long, lonesome perspectives; in empty hours their atmosphere is like a Chirico, and things innocent, ordinarily (a face behind the slanted light of shutters, nuns moving in the distance, a fat dark arm lolling lopsidedly out some window, a lonely black boy squatting in an alley, blowing soap bubbles and watching sadly as they rise to burst), acquire qualities of violence."
—Truman Capote, Local Color, 1946
"The houses' chief beauty is the deep, warm, varicolored stain with which time and the weather have enriched the plaster. It harmonizes with all the surroundings, and has as natural a look of belonging there as has the flush upon sunset clouds. This charming decoration cannot be successfully imitated; neither is it to be found elsewhere in America."
—Mark Twain, Life on the Mississippi, 1883.
INGREDIENTS:
* 2 cups all-purpose flour
* 2 cups cornmeal
* 2 tablespoons baking powder
* 1 teaspoon salt
* 4 tablespoons white sugar
* 5 eggs, beaten
* 6 tablespoons butter, melted
* 3 cups buttermilk
* 2 tablespoons salt
* 2 teaspoons ground white pepper
* 2 teaspoons ground black pepper
* 2 teaspoons cayenne pepper
* 2 teaspoons onion powder
* 4 teaspoons dried oregano
* 2 teaspoons dried thyme
* 6 tablespoons chopped fresh basil
* 4 bay leaves
* 1 cup minced onion
* 1 cup chopped green onions
* 1 cup chopped fresh parsley
* 2 cups red bell pepper, chopped
* 2 jalapeno pepper, seeded and minced
* 2 tablespoons minced garlic
* 1 cup butter
* 2 cups chicken stock
* 1 tablespoon hot pepper sauce
* 2 cups evaporated milk
* 7 eggs, beaten
DIRECTIONS:
1. Preheat oven to 375 degrees F (190 degrees C). Butter one 13x9 inch pan.
2. Prepare the cornbread by combining the flour, cornmeal, baking powder, 1 teaspoon salt, and sugar; mix well.
3. Mix together the 5 eggs, 6 tablespoons melted butter, and buttermilk. Add wet to dry ingredients and mix until no dry ingredients remain. Pour into prepared pan.
4. Bake until top is browned and a toothpick comes out clean, about 55 minutes. Allow to cool completely.
5. In a small bowl combine the 2 tablespoons salt with the white pepper, black pepper, cayenne pepper, onion powder, oregano, thyme, basil, and bay leaves.
6. In another bowl combine the minced onions, green onions, parsley, red or green peppers, chili peppers, and garlic.
7. Melt 1 cup butter in a large fry pan. Add the spices and cook for a few minutes. Add the vegetables and cook about 5 minutes. Do not allow the vegetables to brown. Add the stock and hot pepper sauce. Stir and cook 5 minutes more. Crumble the cornbread into the skillet and mix. Add the evaporated milk and 7 eggs OFF THE HEAT. Make sure to stir well when adding the eggs. Return to low heat and cook, stirring, for about 2 minutes. Remove the bay leaves. Place stuffing in a bowl and cover. Cool before stuffing turkey.

RECIPES & MENU IDEAS

Reveillon in New Orleans A nineteenth century Creole tradition is still celebrated in New Orleans with the famed "Reveillon" dinners. Originally enjoyed after Midnight Mass at St. Louis Cathedral, these elaborate meals broke the religious fast that had lasted throughout the day. In present day New Orleans, Reveillion is celebrated nightly during the Christmas season, with many restaurants preparing special menus for the occasion.

Derived from the French word for 'awakening,' reveillon originally was a meal served after midnight mass on Christmas Eve. Early New Orleans was almost entirely Catholic, and virtually the entire community would participate in these ceremonies. Families would return from the late-night service famished and set upon a feast prepared in advance and laid out on the table or sideboard. A typical early reveillon menu looked very much like breakfast, with egg dishes, breads and puddings, but could also include turtle soup, oysters and grillades of veal. Naturally, the Creoles accompanied these rich repasts with wines, cordials and other fortified drinks. The dinners could last for many hours, and by some accounts even until dawn Reveillon Dinners: Awakening the Holiday Spirit One Feast at a Time
2004 Reveillon Menu
Pat O's Courtyard Restaurant
Mixed Greens - With tart Stilton cheese, rich roasted chestnuts,
sweet pears and bacon-apple cider vinaigrette
Cream of Leek and Potato Soup
Choice of
Slow-Simmered Boneless Duck Breast - With caramelized tasso demi-glaze route'e
Pompano New Orleans - Grilled fillet of pompano topped with shrimp, tomato concasse' tossed in herbed piquante white wine sauce
Choice of Buche de Noel or Pecan Pie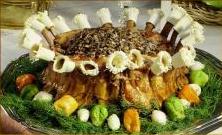 Besides being tasty, a crown roast makes a beautiful holiday presentation. You'll find wonderful directions for this and many more traditional New Orleans dishes at
Bourbon Street Balls with Pecans
Recipe courtesy Rachael Ray

4 cups whole pecans or pecan halves
2 cup crushed or processed Nilla wafers or other vanilla flavor wafer cookies
1 cup confectioners' sugar
4 jiggers bourbon
3 tablespoons white syrup, (recommended: Karo)
Butter, for fingertips

Roughly chop 4 cups pecans in a food processor. Remove 2 cups and reserve. Finely grind the remaining pecans in the food processor. Combine finely chopped pecans, Nilla wafers, confectioners' sugar, bourbon, and syrup. Coat finger tips with softened butter to help you roll. Shape mixture into balls 1 1/2 inches in diameter using an ice cream scoop. Roll in chopped pecans. Arrange balls on a dessert platter and serve. Ask for help rolling. Four hands make very quick work of this dessert!

Emeril's Big Boy Christmas Cookies
The Times Picayune, New Orleans, LA, December 7, 2000
"These are very simple cookies, but delicious nonetheless. I love these butter cookies just the way they are, but they can be sprinkled with colored sugar or brushed with melted chocolate after they come out of the oven. You can make them big, like I do, or as small as you like."

3/4 pound (3 sticks) unsalted butter, at room temperature
1 cup plus 2 tablespoons granulated sugar
6 large egg yolks
1 teaspoon pure vanilla extract
2 cups plus 2 tablespoons all-purpose flour
1 cup ground pecans
3/4 teaspoon salt

Cream the butter and sugar in the bowl of an electric mixer fitted with a paddle on medium speed, scraping down the sides of the bowl as necessary. Cream the mixture until it is smooth and fluffy. Add the egg yolks, one at a time, mixing in between each addition. Scrape down the sides of the bowl. Beat for one minute, and add the vanilla. Combine the flour, pecans, and salt in a medium-size mixing bowl and mix well. Add to the butter mixture and mix on low speed until it is fully incorporated. Increase the speed to medium and mix until the batter is thick and creamy, about two minutes. Scrape down the sides of the bowl and the paddle. Generously dust a large sheet of parchment or waxed paper with flour. Spoon the dough down the center of the paper, fold the paper tightly over the dough, and roll into a cylinder about three inches in diameter and 12 to 14 inches long. Refrigerate for eight hours. Preheat the oven to 350 degrees F. Line a baking sheet with parchment or waxed paper. Remove the dough from the refrigerator and peel away the paper. Using a sharp knife, cut the dough crosswise into 1/2-inch-thick slices. Place them on the baking sheet about 4 inches apart. Bake until lightly golden, about 20 minutes. Remove the cookies from the oven and let them cool completely in the pan. Remove the cookies from the pan using a spatula or thin knife. Repeat the process until all of the dough is used. Store in an airtight container for up to 2 weeks. Makes about 2½ dozen

NOTE: Once the dough is removed from the refrigerator, work quickly so that it doesn't get soft.

La Belle Cuisine - New Orleans Christmas Cookies


Creole Christmas Fruitcake with Whiskey Sauce
from:Emeril's Creole Christmas
Ingredients
For the Simple Syrup:
2 cups granulated sugar
2 cups water Strips of zest of 2 lemons (about 3 tablespoons)
Juice of 2 lemons (about 1/4 cup)
For the Cake:
1 pound of a combination of dried fruits, such as blueberries, cranberries, cherries, raisins, and chopped apricots
1 pound (4 sticks) unsalted butter, at room temperature
2 1/4 cups granulated sugar
4 ounces almond paste
8 large eggs
1 cup Grand Marnier or other orange-flavored liqueur
4 cups bleached all-purpose flour
2 teaspoons baking powder
1/4 teaspoon salt
1/4 teaspoon ground cinnamon
1/8 teaspoon freshly grated nutmeg
1 cup slivered blanched almonds
1 cup pecan pieces
1 cup walnut pieces
1/2 cup bourbon
Instructions
Make a simple syrup by combining the sugar and water in a medium-size heavy-bottomed saucepan over medium-high heat.
Add the lemon zest and juice and bring to a boil, stirring to dissolve the sugar.
Boil for 2 minutes and remove from the heat.
Combine the dried fruits together in a large mixing bowl.
Pour the simply syrup over them, toss to coat, and let steep for 5 minutes.
Strain and reserve the syrup.
Cream the butter, sugar, and almond paste together in the bowl of an electric mixer fitted with a paddle at low speed, occasionally scraping down the sides of the bowl. Beat until the mixture is fluffy and smooth, about 2 minutes.
Add the eggs one at a time, mixing in between each addition on low speed and scraping down the sides of the bowl as necessary.
Add 1/2 cup of the Grand Marnier and mix to incorporate.
Combine the flour, baking powder, salt, cinnamon, and nutmeg in a medium-size mixing bowl and blend well. Add this mixture 1/2 cup at a time to the butter mixture with the mixer on low speed, each time mixing until smooth, about 2 minutes. Scrape down the sides of the bowl as necessary. The batter will be thick.
Add the warm fruit and all the nuts a little at a time, mixing well. Scrape down the sides of the bowl and the paddle.
Preheat the oven to 350 degrees F. Lightly grease twelve 1-pound loaf pans.
Spoon about 1 cup of batter into each pan. Bake until golden and the tops spring back when touched, about 45 minutes (rearranging them after 25 minutes if necessary to brown evenly).
Cool for 10 minutes in the pans. Remove cakes from the pans and cool completely on wire racks.
Wrap each cake in a layer of cheesecloth. Store in plastic storage bags until they are slightly stale, 3 to 4 days.
Combine the reserved simple syrup with the remaining 1/2 cup Grand Marnier and the bourbon. Without removing the cheesecloth, make tiny holes with a toothpick randomly on the top of each cake.
Pour 2 tablespoons of the syrup over the top of each cake once every 2 to 3 days until all of the syrup is used.
Let the cakes age for up to 3 weeks before eating.
For Serving: Warm the Whiskey Sauce and serve with slices of fruitcake. Yield: 12 cakes
Whiskey Sauce Ingredients 3 cups heavy cream 1/2 cup bourbon 1/2 cup granulated sugar 1/4 cup plus 2 tablespoons cornstarch Instructions Combine 2-3/4 cups of the cream with the bourbon and sugar in a medium-size nonstick saucepan over medium heat. Stir to dissolve the sugar. In a small bowl, dissolve the cornstarch in the remaining 1/4 cup cream. Add this to the cream-and-bourbon mixture and simmer stirring often, until the mixture thickens, 4 to 5 minutes. Remove from the heat and serve warm with the fruitcake. The sauce may be stored, after it has cooled, in an airtight container for 24 hours. When ready to serve, warm over low heat.
Credits Recipe from:Emeril's Creole Christmas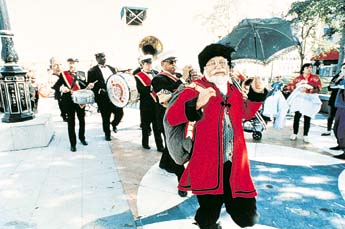 [Photo: New Orleans Tourism Marketing Corp.]
Leading a parade through the French Quarter is Papa Noel, a blend of 18th and 19th century Creole, French and Cajun legends.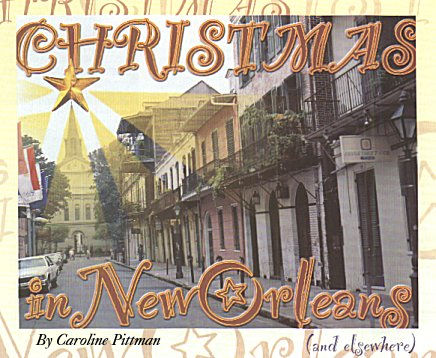 Even the poorest roofs and windows in New Orleans's Desire Street projects glow through the downpour with colored lights and orange electric candles. The light from some displays can be seen a block away. Canned-snow lettering covers windowsills with Merry Christmas messages. "It snowed once, but that was when I was a little girl," 22-year old Chiquita says, holding her three-year old, "Doo," and watching the downpour. Reformed Theological Seminary


New Orleans Style Christmas Music


Clarence's list of Cajun Christmas Songs



The 12 Yats of Christmas
by Benny "Grunch" Antin
buy the CD at
www.bennygrunch.com

1. On'da foist day'a Christmas mah Mawmaw gave'to me a Crawfish'dey Caught in Arabi
2. In'da Christmas Picayune I seen it Dere'n Section E, Tujaque's Recipe
3. On'da thoid day' a Christmas we Stopped at McKenzie for Three French Breads
4. On the fourth day I said OK let's get a Christmas tree Before'ya Drive Me Nuts
5. On the fifth day of Christmas we stopped at A&G for Frrried Onion Rrrings
6. On'da sixth day'a Christmas we stopped at K&B's for a Six Pack'a Dixie
7. Cemetery traffic got backed up to Metairie at the Seventeenth Street Canal
8. On'da eighth day of Christmas me and Rosalie Ate By'ya Mama's
9. On the ninth day of Christmas we drove down Delery in'da Lower Ninth Ward
10. I used'ta be at Kaiser now I'm woikin down'da street at'da Tenneco Chalmette Refinery
11. On the eleventh day at Vetran's Highway try'ta cross the street with Eleven Schwegmann Bags
12. On the twelfth day of Christmas my true love gave to me a Dozen Manuel's Tamales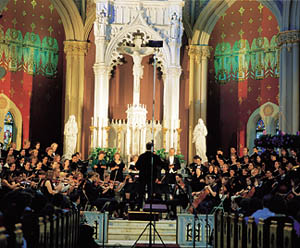 Loyola University New Orleans College of Music
annually presents Christmas at Loyola featuring Loyola Choirs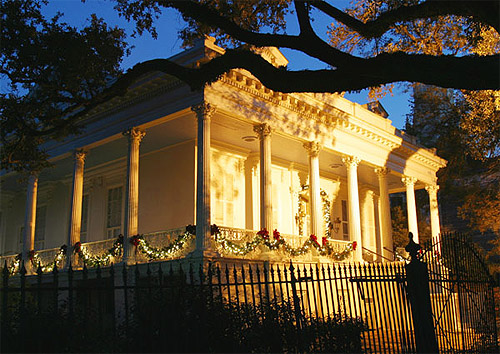 The day starts with a flurry of pajama-clad kids and adults opening presents with squeals of joy. With 24 folks involved, the scene can be chaotic, but Mama Joanie sees to it that everything runs smoothly. Following their standard Christmas Day schedule, the group nibbles on brunch items well into the afternoon, some imbibing a bit of Christmas cheer. Then everyone retires for a short rest. Late in the afternoon, the family gathers for a large feast-the adults in the beautiful dining room, the kids around their own decorated table in the family room. True to their South Louisiana heritage, they always enjoy stuffed mirlitons, cornbread dressing with andouille sausage, and a twist on smoked turkey and Jezebel sauce. Pralines round out the menu. As the day comes to an end, the entire Hartson clan gives thanks for the abundant blessings of another wonderful Christmas filled with treasured family memories and traditions.
--- Family Christmas in New Orleans Southern Living, Nov 2003 by Kate Nicholson

If I won da lottry for Christmas
We don't have to spend a whole bunch
I'd take up a course at Delgado
And eat at Bud's Broiler for lunch
If I won da lottry for Christmas
I'd fix all the holes in the street
I'd bring back the Jackson Brewery
Where they used to have Pontchartrain Beach
IF I WON DA LOTTRY FOR CHRISTMAS -- Benny "Grunch" Antin



Louisiana Shopping


Fig Street Art Studio - New Orleans Art

Many unique prints, gifts, cards, hats, shirts, stickers, and ornaments found at their Zazzle Store

Original art on commission and by appointment at the studio.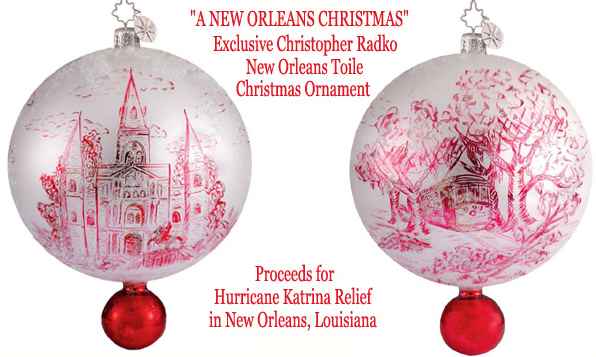 HAZELNUT - Fine Gifts & Elegant Home Accessories - New Orleans, LA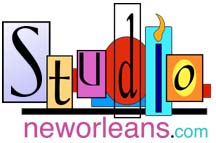 an online gallery featuring contemporary art and furniture from New Orleans and the surrounding area
PamperMePlace, Beauty from the Bayou, Cajun Certified, Louisiana Nurse Created Handcrafted
Bath, Body & Pets, Hand Poured, Gourmet Soy Candles, Pure Soy Body Products
---



Where's My Elf Hat?



---



B-Native.com is dedicated to bringing together select items that are created in New Orleans, by New Orleanians, or items that bring awareness to our city.



---

---



The New Orleans Craft Mafia consists of several independent artists in a variety of media: jewelry, clothing, accessories, home decor, and more.



---


www.bennygrunch.com
Where Y'at? -- Local native music and t-shirts - and a website full of funny wisdom from Benny and the most authentic modern New Orleans Christmas CD "The 12 Yats of Christmas"

Buy mardi gras posters, zydeco cajun music, and New Orleans collectibles. Mardi Gras, Cajun, Zydeco, Blues, Jazz posters and CDs. French Quarter Masks, Cookbooks, and more from New Orleans.

neworleansproducts.com

Treat your Guests to a Delicious Louisiana Creole Fruitcake
blended with the World's Finest fruit, pecans and spices.
CREOLE/ACADIAN DELIGHT BAKERY

sorry this store was never able to re-open after the hurricanes

save nola sportswear

Hats, shirts, prints and more - The items are created, made and promoted by a group of native New Orleanians who lost their homes and personal possessions. 100% of the net proceeds will go to organizations dedicated to building, rebuilding or "greening" homes in New Orleans.


Sweet Charlotte's of New Orleans

sorry this store was never able to re-open after the hurricanes


Great cajun food, books, Mardi Gras king cakes, gifts & more at everyday low prices!
New Orleans Showcase

Serve a TurDucKen!
- Cajun Goods 4 U


nolaposters.com

Created By Mechel - Ceramic Cigarette Snuffers, Ashtrays & Dance Gifts


The New Orleans Jazz Vipers

New Orleans Gift Baskets with everything from Louisiana shirts, hurricane mixes and beignets, to cajun and creole spices from New Orleans

Corsair Neckwear Co. Inc.
has been supplying ties since 1950.

This business was in New Orleans (pre-Katrina), now they are in Denham Springs, LA & they're donating $10 from each Katrina Tie sale to New Orleans Area Habitat for Humanity Fund.

Conversation-starting New Orleans tee's


RedBagCollection.Com

Thank you for supporting Louisiana business!