Magazines are the perfect last minute gift - simply print your personalized gift card after you order!
May no gift be too small to give,
nor too simple to receive,
which is wrapped in thoughtfulness,
and tied with love.
~ L.O. Baird

quick & easy craft ideas:

Cork Trivet
Collect wine bottle corks, or use new ones if you have a supply.
Standing the corks on end, arrange into a pattern (eg. circle, diamond, square, etc.).
Glue the corks together into the pattern, trying to keep glue off the top of the trivet.
When cool/dry, the trivet may be painted if desired.
-- Brenda

Easy Glitter Ornaments

With ordinary white glue, draw a star or snowflake shape onto wax paper and then sprinkle on glitter. Dry overnight and then peel from wax paper. For intricate designs, tape your wax paper over the design and trace it carefully with the glue before you add the glitter. Add a ribbon to hang on the Christmas Tree.
Home made Bath Salts
2 1/2 lb Epsom Salts,
Food Coloring,
Perfume or Herbal Oils
Combine Epsom salts with food coloring and perfume in a large bowl. Mix well so color is even. Put into smaller jars and let stand 4-6 weeks before using. This causes the odor to blend with the salts. This bath salt is very soothing and makes for a very relaxed bath.
Decoupage Stain Glass Effect Candles
Purchase tall clear glass candles at any grocery store (the religious type, but plain) and cut up pieces of colorful tissue paper, and glue the pieces to the outside of the glass. Cover with a sealant (or an extra thick layer of glue) once its dry. These can be made in holiday or non-holiday styles to be used all year, and the total cost is just over a dollar per gift.
Soap Crayons
(non-edible)
1 3/4 c Ivory Snow; (powder)
50 drops food coloring
1/4 c water
Mix water & soap flakes together. Add food coloring & put mixture into an ice cube tray or a cute mold. Allow to harden. Break or cut into pieces. Fun to write with on the tub when bathing & face & hands!!!
www.CreateForLess.com
"We Whisk you a Merry Kissmass" Ornaments


Buy small whisks at any store, some christmas colored hershey's kisses, and some sparkly ribbon. Cram a bunch of kisses into the whisk part of the whisk. Tie one end of the ribbon to the bottom of the wisk, weave, loosely (so you can still see the kisses) up the whisk, and tie a bow at the base of the handle. On a piece of paper (I use scrapbooking paper) write or print "We Whisk you a Merry Kissmass!" attach this to the top of the wisk with a little more of the ribbon.
Cinnamon Ornaments

3/4 c Cinnamon,Ground
1 T Allspice,Ground
1 c Applesauce
2 T Cloves,Ground
1 T Nutmeg,Ground

Combine first 4 ingredients, blend well. Stir in applesauce and mix well (mixture will be stiff) Roll out to 1/4 inch thickness on ungreased cookie sheet. Cut dough into desired shapes with festive holiday cookie cutters, etc. Use a wire hook, paper clip, or poke a hole for a hanger. Dry uncovered for 4-5 days. Store in plastic bags until ready to use. Yields 25 small or 18 medium ornaments. These can be used as air fresheners, etc. To renew scent, sand lightly with sandpaper or emery board.

EASY & FESTIVE CANDLES ...My daughters made candles for gifts last year, but rather than doing the whole dip-candle routine, we bought plain white candles, then melted colored wax (paraffin blocks with different colored crayons melted in) and dipped the white candles in that.
They dipped in various colors, starting by dipping the entire candle, then successively dipping less and less to create stripes on their candles. It was really easy and fun, and they were really proud of the results and pleased that they had special gifts to give. It can get messy we did it in the basement though... (-Joanne)
You can also WHIP the colored wax for a great texture.

Dave's Paper Snowflake Patterns

An Assortment of eleven Christmas Crafts
Easy homemade Christmas crafts and projects to make Christmas a little more fun and personal.

Christmas Guest Soaps
and hundreds of other free craft instructions at craftbits.com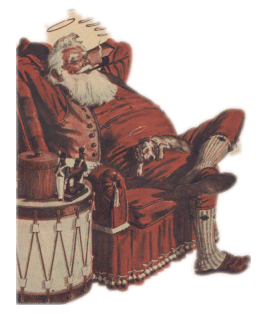 Free Holiday Crafts Patterns and Projects
Inexpensive, Original, Hand-Made Christmas Gifts Ideas for several unique Christmas gifts.
# Candy Cane Ornament
# Christmas Crochet Set Several patterns here.
# Christmas Crafts at imagitek.com Christmas projects including ornaments, fridge magnets, angel, and more.
# Christmas Crafts & More Gourd snowman, Edible Snowman, Ribbon Angel, Shoulderpad Angel
# Christmas Tree Earrings (Beaded) This earring is created in an "upside down" brick stitch.
# Free Snowflake Patterns
# Garden Glove Reindeer Cute reindeer decorations
# Northpole Christmas FREE Online Primitive Wood Patterns with step-by-step instructions, full size patterns and color photos. Including angel and Santa patterns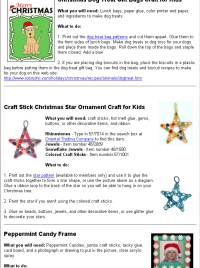 Danielle's Place has dozens of great Christmas crafts with instructions - click here or on the screenshot to visit Danielle's Place

Winter Craft Ideas For Kids
By Anne Clarke
Anne Clarke writes numerous articles for websites on gardening, parenting, fashion, and home decor. Her background includes teaching and gardening. For more of her articles on craft ideas, please visit Teaching Supplies. Article Source: http://EzineArticles.com/?expert=Anne_Clarke
There are so many wonderful possibilities out there for excellent winter art projects and crafts. There are basic winter art projects and crafts like cutting out snowflakes or drawing Santa Claus, but there are also many other fun and interesting ones, as well. You can use your own ingenuity to get yourself started. You can even pose the idea of interesting winter art projects and crafts to your students or children – you may be surprised at what creative ideas a child can think of.
Here are some fun ideas for some great crafts, organized by the supplies that you may want to use.
Cotton balls and gauze
Cotton is a very useful tool when it comes to winter art projects. If cotton balls were just a bit colder, they would seem exactly like mini snowballs! A child can draw a wonderful winter scene and then take cotton balls and rip them and fluff them and glue them down in places where snow should be. Or, maybe a child may want to draw two people having a snowball fight – the cotton balls are already in great snowball shapes as is.
Marshmallows
What is winter without marshmallows? Marshmallows are added treats in hot chocolate, but they are also great to use for winter crafts. A child can take three giant marshmallows and stack them on top of each other to make a mini and tasty snowman. Toothpicks can be used to hold the marshmallows together and also as arms. Mini marshmallows can make fun snowballs when attached to winter collages.
Plaster of Paris
Plaster of Paris can be used in so many fun ways, not just for winter crafts. One way that plaster of Paris can be used is to make "footprints in the snow." You simply need to fill a box lid or some negligible item with plaster of Paris. Once it settles and dries a little bit, students can make all different footprints in the "snow." They can use the side of a fist to make footprints that look like a baby's footprints, or they can draw in footprints of birds or other animals.
Pine Cones
Birds that stay in places all through the winter need food. One winter craft that students can do is to make a pine cone bird feeder. Students simply need to cover a pine cone in peanut butter and dip it in bird seed. After tying a bit of string to one of these pine cones, it can be hung up on a tree outside. These pine cone bird feeders do not just feed the birds, they act as beautiful ornaments for an outdoor tree.
Glitter
Glitter can be added to make any basic winter art project even more fancy and beautiful. For instance, a child can cut a snowflake out of paper and then add silver glitter to make it even better.


"Poop" bags!
Silly, Easy to Make, Affordable Gag Gifts - print colorful tags on your computer printer!
Use greeting card software to create either 'postcard' or 'mailing label' sized enclosures

Reindeer Poop
Put a handful of malted milk balls (or chocolate covered raisins) in a festive Christmas sandwich bag, and staple this poem (from organized christmas.com) to the outside of the bag:

I woke up with such a scare when I heard Santa call...
"Now dash away, dash away, dash away all!"
I ran to the lawn, and in the snowy white drifts,
those nasty reindeer had left "little gifts".

I got an old shovel and started to scoop
Neat little piles of "reindeer poop."
but to throw them away seemed such a waste,
So I saved them, thinking you might like a taste!

As I finished my task, which took quite a while,
Old Santa passed by and he sheepishly smiled.
And I heard him exclaim as he rose to the sky~~~
"Well, they're not potty trained, but at least they can fly!"

Snowman Poop

Put a handful of mini marshmallows in a festive christmas sandwich bag, and staple this poem to the outside of the bag:

"I hear you've been naughty, so here's the scoop,
All you get is Snowman Poop!"

"Angel" or "Pixie" Dust
Place about 1/4 c. of regular table salt in a large ziplock bag and a couple tsps. of coarse clear glitter (the iridescent ones) and 3 - 4 drops of essential or floral oil. Shake the bag to mix contents. Test it on a paper towel to make sure the oil doesn't stain the paper, and if it does, add more of the dry ingredients until it doesn't. This quantity makes about 8 little packages. Place about 1/2 tsp. of the Angel Dust in a small zip-lock baggie. Staple an image of an angel (cut from an old christmas card) to the outside of the bag that reads:

"For a little magic in your life, close your eyes, sprinkle this dust around you, and make a wish. If it sparkles, you wish will come true!"
Memories of a Lifetime: Christmas: Artwork for Scrapbooks & Fabric-Transfer Crafts

$9.97

Old-fashioned postcards with holiday wishes, snow angels, religious scenes, borders and frames, and, of course, vintage Santa Claus images make this a joyful holiday collection [Read more]

Merchant: Buy.com

Classic Crafts and Recipes for the Holidays: Christmas With Martha Stewart Living by Editors of Martha Stewart Living, ISBN 0609808508

$15.84

A collection of traditional holiday crafts and recipes offers seasonal drinks and desserts, Christmas decorations, design tips, gift suggestions, cash projects, and other festive items featuring a variety of materials. [Read more]

Merchant: Walmart

Classic Crafts and Recipes Inspired by the Songs of Christmas by Editors of Martha Stewart Living, ISBN 0609809377

$15.84

Christmas decorations, crafts, and recipes inspired by popular Christmas songs. Also includes lyrics and music to ten holiday songs. [Read more]

Merchant: Walmart

175 Easy-To-Do Christmas Crafts

$5.99

From ornaments to Christmas cards, and decorations to creches, everything a child needs to create a festive Christmas can be found in this fun-filled craft book. Kids will have hours of enjoyment making these many inventive crafts. Easy-to-follow directions and full-color photographs ensure succe... [Read more]

Merchant: Buy.com

Everything Christmas: Carols, Crafts, Poems, Recipes, Stories, Traditions

$5.99

This all-inclusive guide is a new version of the popular Christmas Cyclopedia, the only book of its kind and size. It's the ultimate miniature holiday treasury, now available in a pocket-sized version that's brimming with holiday traditions, carols, decorating tips, and so much more. [Read more]

Merchant: Buy.com

Christmas Decorations and Crafts

$10.13

Features festive home decorations and craft ideas that will appeal to everyone: outdoor lighting, festive tables, tree decorations, candles and more. [Read more]

Merchant: Buy.com

The Big Book of Christmas Scroll Saw Projects: Fun & Functional Crafts to Make & Give

$12.17

Woodworkers will be delighted with the 40 festive holiday projects in this book. Each project is made up of several patterns and includes special instructions for assembly and finishing. Projects include a poinsettia plant holder, angel candlesticks, a reindeer holiday cardholder, and a Christmas... [Read more]

Merchant: Buy.com

Christmas Celebration: Sante Fe Traditions, Foods & Crafts

$27.08

This holiday cornucopia captures the ambience of Indian, Spanish, and frontier American cultural traditions. Internationally known Christmas designer Richard Clawson presents a treasury of southwestern recipes, menus and party plans for children and adults, as well as crafts ideas -- decorations,... [Read more]

Merchant: Buy.com

Gooseberry Patch Christmas All Through the House: Over 600 Holiday Recipes, Cheery Crafts, and Easy-To-Make Gifts for Flurries of Fun!

$17.79

Gooseberry Patch is famous for its 10-year series of Christmas books, and in Christmas all Through the House, we''ve compiled the very best from those books into this collector''s edition. As the largest Christmas book every published by Gooseberry Patch, readers will find the best of their reade... [Read more]

Merchant: Buy.com


BATH TEA - in a section of cheese cloth combine chamomile blossoms, lavender blossoms, some peppermint, rose hips, and some oatmeal (uncooked, not instant) tie the bundle with some pretty ribbon, or embroidery floss.
The cheese cloth can be bought at the grocery store for a couple dollars, and one cheese cloth will make about 200 tea bags.
All of the ingredients can either be bought in bulk or tea form--or grown. If you have a garden or access to lemon balm, add some. Plus, if you have essential oils on hand, add a couple drops of lavender oil to the contents. --nitcha

String Ornaments


Blow up a small round balloon and dip in fabric stiffener. Take Christmas colored thread like gold or red and wrap it all around the balloon, with no distinct pattern. The balloon does not need to be completely covered. Let it dry and then pop and pull out the balloon. Decorate with ribbon, and add a gold ribbon loop, and you are done! I did my whole tree in these ornaments a few years ago, and people raved about it!!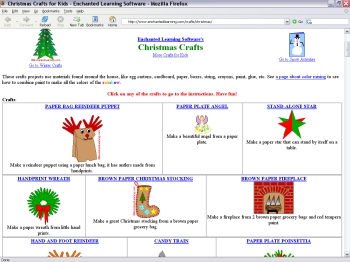 Winter, Christmas, and Hanukkah Crafts These Enchanted Learning craft projects are for preschool, kindergarten and elementary school children. The crafts use materials found around the house, like egg cartons, cardboard, paper, boxes, string, crayons, paint, glue, etc

How to make your own beads from rose petals (text file)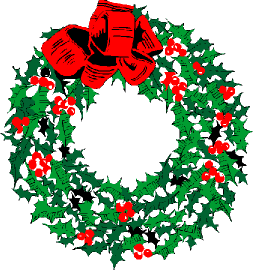 How To Make A Christmas Wreath
By S. Roberts
Christmas wreaths are an old Christmas tradition that is used to decorate the outside of the house, typically on the front door, to give Christmas time visitors a festive greeting.
To make a Christmas wreath you will need a wreath ring, florist wire (you can get these cheaply from our local florist) and some vegetation.
Take a walk around your local park, your garden or in the countryside. Take a bag and some scissors with you and collect interesting vegetation to make a Christmas wreath. Under no circumstances should you pick plants from other people's gardens unless you have their permission to do so.
Collect evergreens, ivy and laurel leave are good. Some leaves are a silvery grey; these add a frosty feeling to the wreath. Conifers are popular in people's gardens. Do you have a conifer in your garden? Conifers don't have overly interesting foliage but they make a great base to the wreath.
Also look out for holly or other shrubs that bear berries. Berries add colour to the wreath. Look out for dried seedpods such as poppies, teasels and pinecones. Seedpods can be spray painted silver or gold and used to add interest to the wreath. If you do intend to use spray paint any pieces do this well in advance of the day you intend to make the wreath to give the paint enough time to dry. When using spray paint always closely follow the direction of use printed on the back of the tin.
To make the wreath To attach pieces of foliage to the wreath ring you cut to piece to length and wrap the wire around the lower end of the foliage and then twist the wire around the wreath ring with another piece of wire. Repeat this procedure an inch or two further down the stem.
During the first round of the wreath the foliage will slide around a little bit but the more you put on the more stable it will become. Keep your work flat on a tabletop to prevent movement.
Much of building the wreath is to place your foliage to make something pleasing to the eye, with interest around the whole of the wreath.
However there are some general rules of the thumb.
Use the inner and outer rings as separate 'rounds' filling both rings makes a full plush wreath.
You will find that you can make rounds appear to have a direction. This is when the stems all lay the same way. Wreaths look best if a round follows the same direction. However, the two rings on the wreath ring don't necessarily have to go in the same direction.
The more you add, the better it looks.
Save the 'feature' or fancier pieces until last so that they sit on the top layer of the wreath where they can be seen.
To add pine cones, wrap some wire around the bottom layer of the cone seeds, and twist the two wire stems firmly together and push the wire into the wreath and twist them together at the back of the wreath. You could also wire on Christmas baubles.
When the wreath is finished hang it on your front door for all to see and appreciate.
S. Roberts writes for www.santaspostbag.co.uk where Santa writes FREE personalised emails and children can write and tell Father Christmas their Christmas wish list. For images of the Christmas wreath visit www.santaspostbag.co.uk/how-to-make-a-christmas-wreath.html SantasPostbag is in association with www.bigboystoyz.com Article Source: http://EzineArticles.com/?expert=S._Roberts

JoAnn's Kid's Holiday Crafts Ideas for kid's holiday crafts
including Reindeer Loot Bags, Santa Ornaments, Christmas candles and others..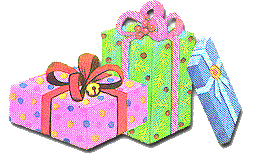 Make Your Own Vanilla Extract

---
by Sandy Shields


HomeMade Vanilla Extract tastes much better than store-bought, and it is very easy to make at home.

I have heard that the imitation vanilla that is sold in our supermarkets is nothing more than a by-product from petroleum companies. Instead of being disposed of, it is sold to the food industry for consumption. I do not know if this is true, but it just gives me one more reason to make my own.


Making real vanilla is fun and easy. The only ingredients needed are vanilla beans and alcohol. I have several recipes for making vanilla, and each one calls for a different type of alcohol, and varying amounts of vanilla bean.

For a strong extract, use a high proof of alcohol and scrape the seeds from the bean. For a weaker extract, use a lesser proof of alcohol and soak beans intact.


Here are a three different methods for making your extract:

1. Place one vanilla bean into a pint of vodka. Shake daily for two weeks.
*Strain if desired, and bottle for storage.

2. Scrape the seeds from three vanilla beans and place them into a bottle of dark rum. Place the pods in the rum as well. Let sit for three weeks, shaking occasionally.
*Strain if desired, and bottle for storage.

3. Place 1/2 cup vodka or white tequila into small saucepan, and heat until it smokes but isn't boiling. Break 2 vanilla beans into pieces and place into bottle or jar. Pour the alcohol into the bottle and cover tightly. Let sit for a week, shaking frequently.
*Strain if desired, and bottle for storage.

*Use a very fine strainer, coffee filter, or paper towel to strain.

HINT:To save money, you can grow your own vanilla orchids and collect the seed pods, or reuse the vanilla bean(s) for another batch of extract.



---
Sandy is a freelance writer and webmaster of TheFrugalShopper.com. She enjoys living the frugal life, saving money, and helping others to do the same. Reprint permission granted with this footer included. Copyright © TheFrugalShopper.com 1999-2005.


Crafts to make with leftover Christmas Cards

recycle old cards by cutting the fronts off and use them next year as postcards and gift tags.

If a card has a decorative border, you can cutout the center for a gift tag and use the border as a handsome mat for a holiday photograph. use a craft knife to cut out the center of the card so that the border will remain intact. you may need to trim the edges slightly so that the card will fit a standard size picture frame.

or use card fronts to decorate a cigar box for a container that's a gift in itself. This is an easy holiday project for children. 4. cut shapes from cards, glue them on the sides and top of the box with glue and then varnish the entire box to protect the surface and add some shine. Top it with a big bow and fill it with homemade cookies for a perfect gift for the teacher.

Make new greeting cards for his year, fold plain while paper into quarters, glue on nicely cut pieces from old cards to decorate.

For a gift that looks like something from a museum catalog, decorate a purchased, lidded wooden box with a card depicting a reproduction of a painting. Paint the box the desired color-gold enamel looks nice. After the paint dries, glue the card front to the lid. Apply 2 coats of varnish for glossy durable finish.

. for a jigsaw puzzle greeting. Trim the card front, write your message on the back and then have the card laminated at an office supply or copy store. Draw puzzle pieces on the back and cut them out with scissors or a craft knife. - This is also an excellent use for the pretty pages of last years calendar!

for a seasonal pin, begin with a basic shape cut from a card. Varnish the shape, and then add scraps of paper, beads, sequins, pearls, ribbons, rhinestones, and whatever else you might have on hand. Glue a bar pin to the back, near the top of the pin.

Used wrapping paper can also be recycled. Apply it to ordinary clay flowerpots to create wonderful containers for gifts. Tear the paper into 1 ~ 1 1/2" pieces. With a stiff paintbrush, apple glue to a small area on the pot. position pieces of wrapping paper at varying angles on the glue and brush more glue over them. be sure to apply the glue generously and to overlap the paper pieces. work from the bottom of the pot to the top and over the rim to about 1 inch inside. apply a final coat of glue to create a hard, shiny finish. larger pots are prefect for poinsettias or christmas cactus. smaller pots offer a clever way to present a variety of gifts. stuff the pot with colorful tissue paper and nestle a surprise inside




Christmas Gift And Crafts Project Ideas
* Soda Can Snowman * Ribbon Spool Christmas Ornaments * Jigsaw Puzzle Pieces Wreath
* God's Eye Ornaments * Christmas Coloring Pages * Clothespin Ornaments * Doily Candy Bowls * Brown Paper Bag Reindeer
* Tootsie Pop Christmas Bouquet * Bleach Bottle Santa * Pop Bottle Snowmen
* Easy Christmas Candle Holders * Doily Angels * Cardboard Tube Wreaths * Orange/Lemon Clove Pomander
* Baker's Clay Christmas Ornaments * Egg Carton Christmas Bells for Your Tree



Keep yourself, or your kids, crafting ALL YEAR LONG!
Choose from 3, 6, 9, and 12 month subscription kits. You will receive a total of 4 craft kits each month.


Here's an idea! I gave these as gifts to teachers, etc. one year. Purchase sisal door mats at discount store for about $2.00. Weave ribbon around outer edge. In one corner make arrangement out of greenery, small Christmas ornaments, etc. and tie a bow. You can purchase Christmas floral pics for a nominal amount, if you're not creative at making your own.
Makes really cute doormat for under $5.00 --JoAnne G.
(editors note: I'm making these with non-holiday pic's and ribbon, so my family can use them all year long!)


Jar mixes are easy fun gifts
...make them pretty by layering the ingredients (sand art style) and wrapping ribbon or raffia around the top
bulk mason jars are available at amazon.com

Christmas Coffee
Mix in a Jar

1/2 cup powdered non dairy creamer
1 cup mini chocolate chips
2 Tbsp vanilla powder
1/4 cup sifted powdered sugar
2 cups nonfat dry milk powder
2/3 cup instant coffee crystals

Combine nondairy creamer, powdered sugar, powdered vanilla, and milk powder. Layer with coffee and chips into two cup jars. Tap between layers to settle before adding next layer.

GIFT TAG DIRECTIONS: For each mug, place 1/4 cup of mix in a mug, and add 2/3 cup boiling water. Stir until dissolved.

A dozen unique "gift in a jar" recipes - ready to print text file

More Jar Gift Pages
with Printable Tags

20 more "gift in a jar" recipes
- ready to print text file


fabric, craft, home @ joann.com!


Styrofoam brand plastic foam projects - hundreds of great craft ideas!

An Assortment of Christmas Crafts Easy homemade christmas crafts and projects to make Christmas a little more fun and personal.

Easy, Easy Christmas Ornament made with scrap fabric


Free tole painting patterns - Angel craft patterns

Christmas Craft Patterns & Links
Free craft holiday projects, free Christmas craft patterns and special holidays links we have selected for crafters.

Christmas Angels Angel Christmas Ornaments and Angel Crafts

My Craft Book > Angel Crafts

Christmas stocking ornaments



COOKIE GARLAND
Begin using a cookie recipe , follow it and using some Christmas cookie cutters cut out your shapes but before baking make two holes near the top,of the cookie make them side by side. Use a tooth pick of skewer to make the holes and make sure the hole is big enough so you can get the ribbon through ,
Bake cookies as directed on your recipe and allow to cool. Create the garland by threading the cookies onto the ribbon Push the ribbon through the first hole from the back of the cookie and then push it back through the second hole , by using two holes we are keeping the cookie straight on the garland ...Once you thread them all, tie the ribbon of with a knot...and hang .
This and hundreds of fantastic craft projects - free directions with photos, at www.craftbits.com