Magazines are the perfect last minute gift - simply print your personalized gift card after you order!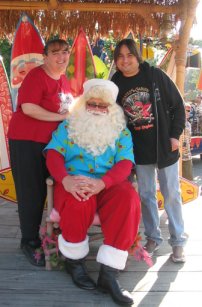 I was inspired to create this webpage because we spent Christmas a couple years ago at a beach house in San Juan Capistrano, CA. It was right on the sand! I was SO cool to wake up Christmas morning, open the sliding glass door, and step out onto the beach!
We put up island and tropical holiday decor, prepared some traditional island foods, built "sand-men" and listened to steel drum Christmas music!
Spending the holiday with flip-flops and sandy shorts is a huge departure from what many people view as a normal Christmas.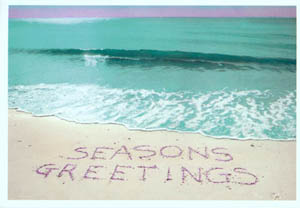 No matter, there are tropical celebrations of Jesus' birth all over the world.
On many tropical islands, the children believe that Father Christmas arrives on a boat, and that is how lovely lighted "boat parades" came into existence.
I've gathered a few recipes and craft ideas, and links to places where you can read more about island Christmas traditions. Enjoy!
Aloha Kalikimaka!



Mele Kalikimaka is the thing to say
On a bright Hawaiian Christmas Day
That's the island greeting that we send to you
From the land where palm trees sway
Here we know that Christmas will be green and bright
The sun to shine by day and all the stars at night
Mele Kalikimaka is Hawaii's way
To say "Merry Christmas to you."
---R. Alex Anderson


RECIPES

HAUPIA
Hawaiian coconut pudding dessert

1 3/4 cups frozen coconut milk
5 tablespoons sugar
5 tablespoons cornstarch
3/4 cup water
Thaw coconut milk over low heat. Combine sugar and cornstarch; stir in water.
Stir mixture into coconut milk and cook over low heat, stirring constantly, until thickened.
Pour into an 8 inch square pan.
Let cool until firm. Makes six servings.
Papaya Balls by Mercy
A recipe that comes from a friend of Mercy's
from Trinidad. She serves these candies every Christmas...


1 papaya, peeled and grated
1 teaspoon lime zest
2 teaspoons lime juice
3/4 cup sugar (per every cup of papaya)
green food coloring or red food coloring


1. Squeeze excess juice out of the grated papaya.
2. Measure the papaya: to every cup of papaya, add 3/4 cup sugar.
3. Mix the papaya, sugar, lime peel and lime juice in a saucepan.
4. Cook slowly over medium/low heat until the mixture"gels".
5. Add a few drops of food coloring.
6. Cool.
7. Shape into balls and roll the balls in granulated sugar.
Click Here for Tips and Reviews of this recipe

You can also find recipes for Tropical Fruitcake, Mandarin orange salad, 1953 Pineapple Christmas Cake, and many other tropical recipes at Recipe*zaar.com

Prince Edward Island: Island Christmas Recipes

Christmas Turkey On The BBQ by Chef: Craig Napper

Melomakarona are made by all Greek families in the week preceding Christmas.

Coquito
Coquito is a Christmas tradition much like Eggnog in the United States of America and elsewhere. Homemade coquito is served to visitors throughout the extended Christmas holidays celebrated in Puerto Rico and throughout much of the Caribbean. It is also a frequent Christmas present in a "from our home to your home" way. While Coquito has gradually become an "adult" drink with liquor, a tasty and nutritious beverage can be prepared without liquor (which may be added later on to please some of the adult tastes).
Ingredients:
* 2 cans of coconut cream
* 1 can condensed milk
* 1 can evaporated milk
* 1/2 quart regular milk
* 4 egg yolks
* 1 teaspoonful of vanilla extract
* ground cinammon
Blend egg yolks and condensed milk. Gradually add and blend in all remaining ingredients. Refrigerate. Serve very cold, preferably without ice in small cups. Sprinkle ground cinammon on top. Sip and enjoy. A more conservative approach is not to include egg yolks. Try it both ways. They are both a treat to your taste buds! Commercial varieties of Coquito have been around for a few years. Some people buy any of the commercial Coquitos and enhance the taste by adding their own ingredients. More Tropical Beverage Recipes
---
A Caribbean Christmas Menu:
Callaloo Soup
Roasted Fig Salad with Warm Walnut Gorgonzola Dressing
Saltfish Fritters
Jerk Turkey
Rice and Peas
Roast Sweet Potatoes
Mango Chutney
Tropical Fruit with Rum and Lime
Rum Cake
---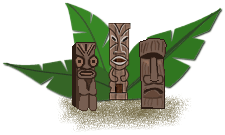 Tammy in Sacramento, California writes:
I made Tropical Lime Cake for my family's Christmas Day celebration.
The kids were absolutely mad for it! I called it "Grinch cake" because of the color,
and sprinkled holiday red and frosty white sparkling sugars on it to make it look a
bit more festive hopefully without gilding the ranuncula :-)
It looked pretty and Grinchy green, and the kids were just delighted.
The adult kids too. It is a very tasty cake! Thanks for this wonderful recipe.
Tropical Lime Cake
(recipe from Wayne in Phoenix, originally (?) from Robb Dabbs on Allrecipes.com)
1 box lemon cake mix
1 (3 oz) box lime-flavored gelatin mix
5 eggs
1 cup vegetable oil
3/4 cup fresh orange juice
1/2 cup fresh lime juice
2 cups confectioners' sugar
Preheat oven to350 degrees F (175 degrees C). Grease and flour a 9x13 inch pan. In a large bowl, stir together the cake mix (Tammy's note: I sifted it) and lime flavored gelatin. Combine eggs, oil and orange juice in a blender and blend for at least 5 minutes. Gradually add the blended ingredients to the dry mixture. Beat for 5 minutes using electric mixer. Pour into the prepared pan. Bake for 40-45 minutes in the preheated oven until a toothpick inserted comes out clean. When the cake comes out of the oven, prick holes all over it using a fork. To make the glaze, combine the lime juice and confectioners sugar (Tammy's note: I sifted this too!) in a small bowl. Beat until smooth. Pour over the hot cake. This will soak into the cake. Thanks again, Wayne!
---

Island style corned beef with cabbage

1/2 sm. round cabbage
1/2 c canned corn beef
1 sm. round onion
GRAVY:
1 t. cornstarch
2 t. soy sauce
1 t. salt
1/4 t. liquor (I use whiskey or omit)
2 t. sugar 1/4 c. water
Pan fry onion, add corned beef, fry gently for 1 minute. Add cabbage, and cook for 2 minutes. Mix well and serve. Aloha from the 50th state!

---

You would find the following foods at a traditional Hawaiian luau (feast): Kalua pork which is wrapped in ti leaves and cooked in an underground pit with heated rocks, poi which is made from pounded cooked taro, pipikaula which is a form of beek jerky, lomi salmon which is salted salmon mixed with tomatoes and finely chopped onions, laulau which is pork and butterfish wrapped in taro leaves (tastes like cooked spinach), and haupia, coconut pudding, for dessert with fresh pineapples.
Here is a recipe for Oven Kalua Pork:
3 lb. pork butt
2 cups water
1 teaspoon liquid smoke
1/4 cup Hawaiian salt (fine rock salt will do)
Place pork, fat side up, in a roasting pan or deep casserole. Combine water and liquid smoke; pour over meat. Sprinkly with salt. Cover and roast in oven at 400 degrees for 3 hours. Remove from pan and shred pork. Makes 6 servings. Simply ono (delicious)!
Find More Luau Recipes at Aloha Friends


CRAFTS & DECORATIONS

Decorating for an island Christmas celebration is a unique blend of "holiday and hula" decor. Use more natural items than you normally would, like palm fronds, dried grasses, and bright tropical flowers.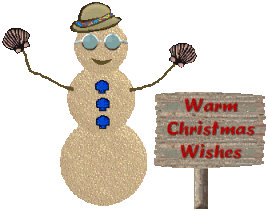 Dig out those hula skirts, and use them to wrap around tables, or use them as window covering. Get our your bobble-hula girls and make tiny santa hats for them! Sprinkle fake snow all over everywhere!

Use bamboo sticks, available at joann.com
and garden supply stores, for displaying christmas cards or hanging stockings, or make a "tree" out of bamboo!

Send friends and family a beach themed Christmas card... try not to rub it in!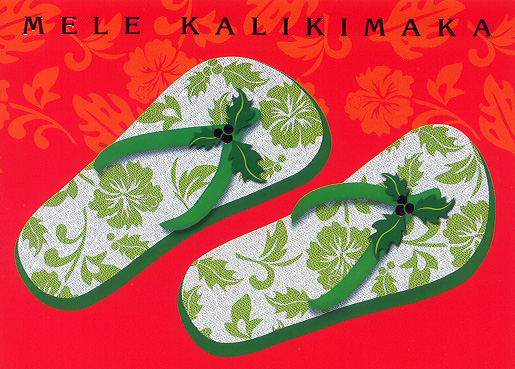 You also will find some great decorating ideas on my summer luau page.


Draw fishes and sea life with santa hats and scarves, hang your art on the walls!

Seashell Angels are cute and easy decorations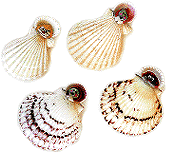 Keep your Tropical Christmas memories fresh all year round with the Flower of the Month Club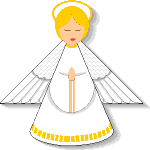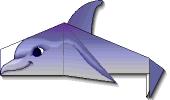 There are many
Printable Origami Projects
at
TammyYee.com
, I'm printing them right now !!!
.. easy to pack for the trip to the beach house, a fun easy craft for everyone to enjoy, and lovely decorations all week!

IslandChristmasShop.com features fun and whimsical beach theme
holiday ornaments, greeting cards and party decorations


Bamboo, Coconut & more
Tropical Candles at CandleBay.com

Hawaiian Cookies in a Jar (with cute printable gift tag!) is a cute island theme gift idea
Decorate your greeting cards, gift tags, and wrapping with wonderful unique rubber stamps from Sideshow Stamps.
The stamps are drawn and designed by a very creative married couple in my neighborhood!
Hawaiian, Polynesian, Surf, Tikis, 50's - 70's Retro, Barware and much more!


Use a palm tree as your Christmas tree!
We bought a cheap pre-lit one at a local home & garden store for $40... its fakey but thats ok... or you could buy a live palm... please make sure it will survive after the holidays, either keep it at home, donate it to someone who can.
Nautical Ornaments from Bradford Exchange


Thomas Kinkade Winter Lighthouse Ornament Set One

Thomas Kinkade's Ornament Set Illuminates the Holidays - The classic lighthouse, keeper's cottage and the elements that affect them are the intriguing subject of some of Thomas Kinkade's most remarkable work. Now this renowned artist's uplifting lighthouse art inspires this 3-piece sculptural exclusive limited edition Bradford Editions collectible ornament set. It blends holiday beauty with Kinkade's revered lighthouse scenes in ornaments that light up with a special glow. Imagine how these ornaments will add more sparkle and cheer to your own holiday decorations! Celebrate the season, order your set today!

Thomas Kinkade Winter Lighthouse Ornament Set One

Guiding Lights Illuminated Ornament Set One These "Guiding Lights" illuminated ornaments are designed by Dona Gelsinger. She portrays powerful symbols of hope and guidance in this three-piece ornament set. Each ornament features a three-dimensional sculptural lighthouse hand-underglazed in elegant ivory and graced with 22K gold. A precious porcelain angel with soft, real feather wings waits nearby. Hand-painted sculptural details and title plaques finish them off beautifully. Insert a mini-bulb from your holiday light strand and watch the towers glow. Set of three. 4-1/4"H. Guiding Lights Illuminated Ornament Set One

Seaside Inspiration Ornament Set 1 Lighthouse collectibles continue to be very popular for personal collections and gift giving. These three-dimensional ornaments, featuring the art of Al Hogue, light up to reveal the guiding lights of hope and inspiration in an exciting new media. Order early to ensure availability of this set of uniquely designed lighthouse collectibles. Seaside Inspiration Ornament Set 1

Thomas Kinkade Romantic Sailboats Ornaments Set One Thomas Kinkade's Sailboat Ornaments - Collectible Firsts! - Like Thomas Kinkade, you'll love the spectacular views of storied lighthouses and rugged shorelines that grace his marvelous first-ever collection of sailboat ornaments! Featuring the breathtaking artistry of Thomas Kinkade, this enchanting set of hand-crafted Bradford Editions collectible ornaments will bring the drama and grandeur of the seas to your holiday decor for generations to come - order today! Thomas Kinkade Romantic Sailboats Ornaments Set One

ISLAND HOLIDAY MUSIC
My husband and I have collected island style Christmas music for years, I think we have 12 or 13 tropical Christmas CD's on our stacks ... . Anything with a steel drum or ukulele will put everyone in a hula-holiday mood!
C - Is for Christmas the season of good cheer,
H - Is for Happiness to last throughout the year,
R - Is for Respect that each and all should show, in this holy season where ever you may go.
I - Is for indulgence to know how far to go,
S - Is for Santa Clause
T - Is for toys for little girls and boys, around the world where'er you go you'll find them joyfully
M - Is a for manger the place where he was born
A - Is for angels who watch from dust till dawn
S - Is a for stars that the lead three men are from afar
-- from Miss PeBeep Christmas in Jamaica
also at buy.com

Hoppin' Hula Holiday Tropical Steel Band Christmas

and

Island Christmas


The perfect labels for your
Tropical Christmas Cards, or party invitations!




LINKS & MORE:

How to Celebrate a Hawai'ian Christmas

"Most of the world celebrates Christmas in the tropics or during what is summer in the Southern Hemisphere. But when most people dream of a 'merry little Christmas' they imagine tastes, smells and sights from frosty winter festivities in Europe and North America" --from Merry tropical Christmas by Terry Mattingly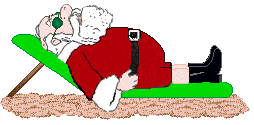 Christmas under the Martinique sun

Christmas in Hawai'i

Put some summer into your December with The Beach Boys' fun surf stylings of 12 Christmas classics. Includes: Auld Lang Syne, Blue Christmas, Christmas Day, Frosty the Snow Man, I'll Be Home for Christmas, Little Saint Nick, The Man with All the Toys, Merry Christmas, Baby, Santa Claus Is Comin' to Town, Santa's Beard, We Three Kings of Orient Are, White Christmas.

Hal Leonard The Beach Boys - Selections from Ultimate Christmas Piano/Vocal/Guitar Artist Songbook

Captain Santa Island Music

Buy.com

While sleigh rides and snowmen are unheard of during the warm and sunny
Australian Christmas season, beach time and outdoor barbecues are common.
How to Celebrate an Australian Christmas

Nancy's Luau Party Idea Page - great island party inspiration!

YOU KNOW YOU'RE CELEBRATING CHRISTMAS IN HAWAII WHEN...

Old time Christmas in Jamaica

Children in Puerto Rico acknowledge both Santa Claus and the Three Wise Men (or the Three Kings, as they are known locally) as holiday gift-bearers, but there has been an increased emphasis on celebrating the coming of the Three Kings given the island's Spanish heritage. On the evening of January 5, the eve of the Epiphany, children leave grass (preferably in an empty shoebox) and water for the Wise Men's camels in expectation of their arrival with gifts -- Christmas in Puerto Rico

www.melekalikimaka.com

Aruba & Netherlands Antilles - Sinterklaas


graphics used with permission & payment



Mahalo For Stopping By...
Aloha Kalikimaka!