How To Host A Victorian Tea Party
Ideas & Recipes
By Luanne Oda

A Victorian Tea Party would be the most elegant of all. Everything in Victorian times was done lavishly. So break out your grandmothers china, silver, crystal & serving pieces. The fancier the better. Of course if you have a truly prized possession that would break your heart if it was damaged, please donít use for the party. Accidents do happen! Before you get your house ready & prepare your food, you have to send out invitations.
INVITATION IDEAS
There are so many options here. With todayís computer programs you can make some beautiful ones at home. Tuck an actual tea bag in the invitation. Perhaps make some using paper doilies & scrapbooking supplies.
DECORATING & SERVING
You will want to make the house as pretty as possible. Fresh flowers are a must, use them everywhere. I had a birthday tea in early June & I put vases of peonies everywhere, they are beautiful. Use traditional vases, or teapots that no longer have lids. Sometimes you can find then for a bargain since they no longer have a lid! Use candles both tapers & scattered votives or tea lights. I use some of those fancy shaped Christmas light that are sold now in all kinds of shapes. I have some pretty heart ones & some flower ones & even some dragonfly lights ( those are for the fairy tea party - see my page on fairy tea parties) Play soft music in the background. There are even tea party music CDís you can purchase. For tablecloths try lace or damask. Scatter silk rose petals on your table. Use real linen or fancy paper napkins. I found some monogrammed napkins at an antique store in California last year. They were inexpensive I guess because not too many people have an "O" monogram.
For Serving Pieces You Will Need At Least Some of the Following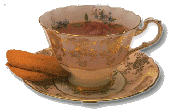 Teapot Silver Or China
Sugar & Creamer
Salt & Pepper Shakers
Water Pitcher
Various Serving Trays
Tole Tray
China Serving Platters
Silver Serving Pieces
Crystal Serving Pieces
Crystal Plates
Crystal Bowls
Silverware
Pedestal Cake Plates
Porcelain or China Teacups
Pretty Plates(mix & match is OK)
Jam or Jelly Serving Jar
Demitasse or Fancy Spoons
You donít need to spend a lot of money. You can find some great bargains at your local thrift stores, flea markets & antique malls. Mix & Match is Definitely OK for teacups & saucers. Even mismatched sets are OK. Some I have been given as gifts, but most are from estate sales or thrift stores. I have at least 24 mix & match cups & saucers.
I love the pedestal cake plates or the tiered serving pieces. I have several I purchased at the Salvation Army. I bought a vintage Hobnail cake plate for $1. It has a repair on the pedestal part , but I cover with appropriate fancy ribbon! Be sure you use lots of scented candles, be creative with your candle holders. Use paper or tatted doily under or on your serving pieces. Be sure you have a nice glass or crystal on hand for water. Maybe not all of your guests drink tea.
To use for serving sugar or with teacups, or as party favors, be sure to see some of the demitasse spoons I sell. Arenít they sweet! Tie them up to a tea bag with a little satin ribbon & you have a darling tea party favor. If you can find some bargains, give each guest a fancy teacup to take home.
YUMMY FOOD TO SERVE
Offer your guests a variety of tea flavors. I leave them out in a lined basket. It is fun to use decorated sugar cubes & sugar tongs too!
TEA SANDWICHES
There are many varieties of tea sandwiches you can serve. Try to find a firmer style bread, cut the crust off & cut sandwiches either diagonally so you have 2 triangle sandwiches or in 4ís for a bit smaller sandwiches. Cucumber sandwiches have long been a tea party tradition. This is an easy one that everyone likes. Just spread softened cream cheese on bread & top with thinly sliced cucumbers. Simple. For a fall or Christmas time tea try turkey & cranberry sauce sandwiches. Use your favorite egg salad or chicken salad recipe. try adding sliced almonds to your chicken salad recipe, yum! For other fillings you can use, watercress, tomatoes, cheese, deli meats, smoked salmon or ham salad. For Children spread softened cream cheese on bread & top with jelly, cut with cookie cutter. On top of the sandwich spread just a bit of softened cream cheese & dust with sprinkles.
SCONES BISCUITS COOKIES & CAKES
You cannot have a Victorian Tea Party without scones. You can find a variety of scone recipes on the internet. I have used scone mixes before as well. If you have a Panera Bread Store in your area, they have wonderful orange scones. You might like to have traditional devonshire cream, lemon curd or jelly or jams for your scones & biscuits.
Lemon Curd Recipe:
3 eggs
1/2 cup fresh lemon juice
1/2 cup salted butter
1 cup sugar
Mix together melted butter & sugar. Add well beaten eggs & lemon juice. Place in double boiler or over simmering water. Stir continuously for 15 minutes or until thick. Allow to cool & refrigerate. Will keep for about 2 weeks.

Traditional Tea Cakes Recipe:
4 cups flour
1 cup butter
2 egg yolks, beaten
milk
1 egg white, beaten
1/4 cup sugar
Caraway seeds
Mix all ingredients together, mix to paste with a little warm milk, cover with a cloth and let stand for about an hour in a warm place. Roll out cut with round or shaped cutter & bake on lightly greased or sprayed sheet at 350 degrees until they are golden brown. For other treats serve a variety of breads, cakes & cookies. Serve sliced banana bread, shortbread cookies, your favorite holiday cookies, lady fingers, lemon cookies or biscuits, orange cake, peach or strawberry tarts or tartlets, petit fors, applesauce cake, brownies or fudge, carrot cake, gingerbread, or tiny cupcakes.

TEA PARTY THEMES

Do you need an excuse to have a Victorian Tea Party?? Next time you host a baby or bridal shower, make it a tea party, a birthday party for a friend, a Christmas tea is always beautiful. Host one for your ladies group at church or ladies Bible study. Celebrate an anniversary, invite over your grandma, or granddaughters, let your little girl invite her friends for a fancy dress up day! Combine a tea party with an etiquette class, have a garden tea party in the summer, and of course there is always Valentineís Day, my favorite. Be sure to visit my website for tea accouterments and tea party favors!

Luanne R Oda aka NANALULU
http://nanaluluslinensandhandkerchiefs.com/ Article Source: http://EzineArticles.com/?expert=Luanne_Oda
http://EzineArticles.com/?How-To-Host-A-Victorian-Tea-Party-Ideas-Recipes&id=516076