July 4th is a favorite American holiday, its the USA's birthday! Americans celebrate with fireworks & back yard bbq's. Flags fly everywhere! Memorial Day in May, and Labor day in early September, and elections are also good times to have a patriotic party!
July 4th Patriotic Centerpieces and Tables
Martha Stewart on Displaying Flags
Martha's site has lovely ideas for patriotic partys.
Fourth of July - history, crafts & themes

The stores are full of red white & white foods for the 4th of July. Even tortilla chips are available in holiday colors! Purchasing red white & blue party ware is easy, and its available all year, it generally isn't necessary to buy expensive holiday party ware, when cups and plates already come in these colors.
Tons of Patriotic and Holiday items at joann.com!

Fresh flowers are lovely at any party, finding truly-blue flowers can be a challenge. Buy red & white flowers and use blue ribbons and sparkly blue "pick" decorations for your patriotic floral display...


American Pride Items by ShindigZ.com

Patriotic Items by ShindigZ.com
It's Time For Flag Waving, Backyard Picnics and


Mom's Apple Pie! - Home Cooking at BellaOnline
Abigail's July Fourth Picnic Recipes & More
July 4th Patriotic Centerpieces and Tables

Stars & Stripes Cake
a super idea from Betty Crocker!
---
Red, White and Blueberry Shortcakes
from Pillsbury
Traditional biscuit-based strawberry shortcake
gets a patriotic twist with the addition of blueberries.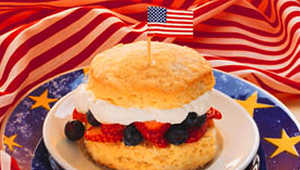 1 (16.3-oz.) can Pillsbury® Grands!® Refrigerated Buttermilk Biscuits
2 tablespoons margarine or butter, melted
4 to 5 tablespoons sugar
1 cup whipping cream
2 tablespoons powdered sugar
1/4 teaspoon vanilla
1 pint (2 cups) strawberries, sliced
1 pint (2 cups) blueberries

1. Heat oven to 375°F. Separate dough into 8 biscuits. Dip top and sides only of each biscuit in margarine, then in sugar. Place 2 inches apart on ungreased cookie sheet. Bake at 375°F. for 13 to 17 minutes or until golden brown. Cool slightly.
2. In small bowl, beat whipping cream until soft peaks form. Gradually add powdered sugar and vanilla, beating until stiff peaks form.
3. To serve, split biscuits; place on 8 dessert plates. Layer biscuit with strawberries, blueberries and whipped cream. Store fruit and whipped cream in refrigerator.
Prep Time: 40 min Makes: 8 servings





Flag Personalized Pencils

Americana Heart Diecut Sheeted Address Labels

Eagle Sheeted Address Labels