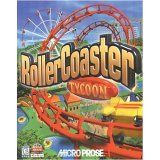 Created by Chris Sawyer, the RollerCoaster Tycoon franchise is known for thoughtful game design that truly lets the player explore every aspect of building and running their very own theme park. The choices are nearly limitless! Players can choose from a wide range of coaster types with giant loops and barrel rolls or try their hand at constructing historical rides like the Side Friction RollerCoaster and the Virginia Reel! There are even added attractions that can be built like miniature golf courses, suspended monorails and even a water soaked log plume ride! -
Since its launch, RollerCoaster Tycoon has endeared itself to millions of PC owners worldwide. Now thrill ride fans can own a virtual treasure trove of fun and creative experiences offered in RollerCoaster Tycoon and its subsequent expansion packs, Corkscrew Follies and Loopy Landscapes.
Manufacturer Description
Design and build the biggest, best, and scariest rides ever seen in any theme park. Create over 50 designs from the traditional wooden roller coaster to the high-tech Steel Corkscrew and the terrifying Reverse Freefall--all featuring accurately simulated motion dynamics. Fund the research and you will get the greatest rides current technology is capable of. Then charge the top prices to your visitors. RollerCoaster Tycoon gives you the ups, but also the downs: Why should people come to your park? Are the rides too expensive? Have you built enough food stalls? Do your amazing rides have a habit of breaking down too often? Climb or fall, boom or bust, you are in charge of it all: making sure the rides are safe, finding out what your guests are thinking, and giving them what they want--for the right price.
Product Description
Experience the challenges and pulse-pounding excitement of creating and running the ultimate amusement park. Start with an undeveloped tract of land, a modest bank account and your wildest dreams. Accurate motion dynamics/physics produce thrilling rides - or the ultimate disaster Excitement/Nausea ratings let you design attractions for guests of all stomach strengths Track your financial performance For Windows 95/98+
RollerCoaster Tycoon Gold Edition
- Contains the orignal game and both expansion packs - perfect for new RCT players and older computers