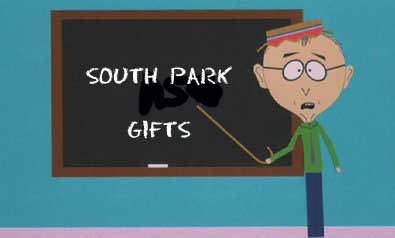 Welcome to your one-stop shop for all things
SOUTH PARK!
Thanks for Visiting!
All products are subject to previous sale -
... meaning they might be sold out when you click ...
type in "south park" at the various stores to see their current South Park Gift selection!
Along with t-shirts, boardgames and many other South Park goodies, there are also many videos, dvds and books to fill up your entertainment centers and bookcases listed below. Take your time looking through - you wouldn't want to miss anything!
Dude! Checkmate!
The insanity of South Park has finally been captured in this collector's chess set that has been designed with the true fan in mind. Kenny, Kyle, Stan, and Cartman are all here! Sweeet! So set up the board, open up a bag of Cheezy Poofs, and have at it! Includes: Kenny as the Pawns, Stan as the Rooks, Cartman as the Knights, Kyle as the Bishops, Chef as the Kings, and Big Gay Al as the Queens. available from AreYouGame.com

South Park Chess Set

One of America's favorite card games meets up with Cartman, Stan, Kenny, Kyle, and all of your other favorite characters in the most outrageous game of UNO ever! The South Park Special Edition Card Game is the ultimate tribute to Comedy Central's groundbreaking animated series. Packaged in a collectible tin, it's a must-have for South Park fans. Be the first to reach 500 points, and win the game! For 2 to 10 players ages 18 and up. South Park Uno Game
How much do you know about South Park? This is your chance to show the world, or at least your friends, how much you know about the insane inhabitants of the quiet mountain town of South Park. What does Cartman buy with the $1 Million Dollars he inherits from his dead Grandmother? (An amusement park). What phrase is written on Officer Barbrady's Police Car? (To Patronize and Annoy). All your favorite characters are here, from Chef and Butters to Timmy and Towlie. For 2 or More Players, Ages 18 and Up. South Park Trivia Game in a Tin
Deal a round with the boys from South Park with the South Park Deluxe Poker Set. Play 7-Card Stud, 5-Card Draw, Texas Hold 'Em and more with Cartman, Kenny, Kyle, and Stan. This one-of-a-kind Poker Set includes 180 chips, 54 cards and a rule book featuring your favorite South Park characters.
With the South Park Poker Set, the game will never be the same!
South Park Poker Game
SP:BLU @ amazon

South Park: Bigger, Longer & Uncut DVD

South Park: Bigger, Longer & Uncut - Music From And Inspired By The Motion Picture

George W. Bush has been a godsend to comedians, offering enough buffoonery to keep talk-show monologues running for eight more years of hell. Now, alas, it`s time to say goodbye. This Comedy Central collects salutes America`s cackling 43rd President with this fond farewell that includes Dubya-themed skits, stand-up acts, episodes of SOUTH PARK and LIL` BUSH, and more! Copyright (C) Muze Inc. 2005. For personal use only. All rights reserved. Comedy Central Salutes George W. Bush (DVD)
South Park: Bigger, Longer & Uncut
Piano/Vocal/Guitar Artist Songbook

Hal Leonard South Park: Bigger, Longer & Uncut Piano/Vocal/Guitar Artist Songbook This collection features 10 songs from the big-screen release starring everyone's favorite animated hellions. Includes: Blame Canada, I Can Change, I'm Super, La Resistance (Medley), Mountain Town, Up There, What Would Brian Boitano Do?, and more. Hal Leonard South Park: Bigger, Longer & Uncut Piano/Vocal/Guitar Artist Songbook
also:
BOOKS @ amazon


South Park Chef Italian Charm and more at Pugster

South Park has you coming and going! Join the boisterous boys (Kenny, Stan, Cartman, and Kyle)
of South Park as they appear on the front AND back of this comfy South Park Gang T-Shirt.
White T-shirt is made of 100% cotton. Imported. From The Lighter Side gifts
South Park Gang T-Shirt White
MORE MORE MORE
SOUTH PARK GIFTS
FROM A VARIETY OF STORES:


South Park' Framed PosterZ
Decorate with Stan, Kenny and all the others in the small backward mountain town of South Park. The comical, controversial smash-hit cartoon series by Trey Parker and Matt Stone chronicles the strange status quo of four elementary school boys living in Colorado. This framed and texture glazed poster comes hand-finished with a state-of-the-art, non-reflective 100-percent acrylic polymer coating, which both protects the image and lends it a luminescent sheen. All Framed PosterZ images feature a 'brushstroke' appearance and are framed and ready-to-hang. Title: South Park Framed Posterz Frame: Satin Black Laminate - 1 1/8in Image Dimensions: 35.41 in. W x 23.41 in. H Outside Frame Dimensions: 37.7 in. W x 25.7 in. H Style: Contemporary Format: horizontal Size: Oversize Subject: People & Figures Product Type: Framed PosterZ - Hand applied texture finish.
8x3 inches (width x height) Vinyl Sticker Oh My God They Killed Kenny Words On Product: Oh My God They Killed Kenny


Kenny's Dead

3x6 inches (width x height) Vinyl Sticker SUPER Big Gay Al

Big Gay Al runs "Big Gay Al's Big Gay Animal Sanctuary" He teaches the people of South Park how to accept their gay pets and love them even though they are gay.

SUPER Big Gay AL


Sweet Lovin'

5x4 inches (width x height) Vinyl Sticker South Park's Chef in bed with 4 women Words On Product: I Just Gave You Sweet Lovin' 5 Minutes Ago!

4x4 inches (width x height) Vinyl Sticker South Park's Timmy Words On Product:

Timmy!
Thanx for visiting!

Updated "Weakly" by Nancy M
Thanks for supporting this site by purchasing products from my sponsors
All disclaimers you've read before, they apply here also. I do not represent Comedy Central or South Park in any official manner.