Digital cameras are HOT gifts
- always coming down in price, and with
better & better features for the money
I always recommend Canon's A series, but I'm just being loyal :)
I've owned 2 of the A series so far.
They are well recommended everywhere, and reasonably priced.
...Visit Steve's --- a wonderful digicam review site that is very helpful while you shop for digital cameras
The cameras below, Canon (of course),
is are some cameras I might choose from if
If I accidentally dropped my camera in the ocean....
(like I did my Canon A60... oopsie...)
---
SAVE NOW on Quality Inkjet Cartridges. Up to 75% SAVINGS!

IBM UG Photo Paper Cards - 27sheets

Photo Paper 4x6 100 Sheets

Always FREE SHIPPING and Receive 3 FREE Gifts
with your order of $55 or more at 123Inkjets.com!!! CLICK HERE!
---
Create your own custom T-Shirts with joann.com
Photo Effects Ink Jet Transfer Paper- 6PKG

"Use this transfer paper with Ink or Bubble Jet Printers.
Use your transfers on smooth light colored materials with a tight weave of 200 or more.
Use an iron with T-shirts and a heat press with heavy materials. Machine washable. 8-1/2"" x 11"" 6/pkg."
---

...His own photography on a box of chocolates?
Perfect! - also great for out-of-town relatives
---
---
Digital Cameras
Tips To Consider When Purchasing.


A digital camera is an electronic device to transform images into electronic information. New digital cameras are typically multifunctional and the same device can take pictures, video and audio.

Many digital cameras can connect directly to a computer to transfer data. Early cameras used the PC serial port. USB is the most commonly used method, though some have a Firewire port or use Bluetooth. Some cameras are able to attach to computer networks wirelessly via Wi-Fi.

Here are 10 top things to consider when looking to purchase a digital camera: -


1. Price: This can vary from around $100 to upto $10,000 for a high end professional camera. You can buy one with good resolution and options for well under $600. Ones with more manual control settings can be found for around $600-2000 dollars, usually suited to serious amateurs.

2. Resolution: To print good quality color photos at the standard film sizes 4"x6" or 5"x7" you'll need a 2-3 megapixel camera. If you are printing as large as 8"x10" then you're going to need a higher resolution around 3-4 or more megapixels.


3. Viewfinder: Low-end digital cameras provide an optical viewfinder while more expensive ones replace the viewfinder with a LCD (Liquid Crystal Display). Look towards purchasing one with an LCD display, AND the optical viewfinder. LCD can be difficult to read in bright daylight. You want BOTH.



4. Focus: Most cameras are either fixed-focus or autofocus which is suitable for the average digital camera user. With a fixed-focus lens everything from a few feet to infinity is in focus. The only problem with this is when shooting pictures up close. Autofocus will automatically bring whatever is in the centre of the viewfinder into focus.


4a. ZOOM - ignore "digital zoom" and get the most "optical zoom" that you can afford.


5. Storage: Many cameras come with a small memory card, but if you want to take lots of pictures or footage, it is a good idea to check whether what is supplied is enough. Chances are it won't be, so look at how much a new 'decent' capacity memory card etc is going to cost for that particular model.

6. Compression: If you want the highest possible image quality, look for a camera that will let you save pictures in "CCD raw mode" which means with no compression at all.

7. Batteries: It is important to get a camera that will accept rechargeable batteries. There are three varieties of batteries available Nickel Cadmium (NiCad), Nickel-Metal Hydride (NiMH) and Lithium-ion (Li-ion or LiOn). A camera may accept only one or two kinds of batteries so be sure to find out what kind.

8. Power Saving: To save battery power, use a camera that accepts an AC adapter.

9. Interface: If you are interested in maximum speed you should keep your eyes open for cameras and card readers that support FireWire

10. Video Output: This can be invaluable for presentations. If you would like to do this, look for a camera with a video-output terminal. It allows you to display your pictures on a TV or projector.

Article Source: http://articlereprintsgalore.com with additional commentary by Nancy from dumptv.com.


---

He already has a camera he loves?
There are other gifts you can give, like software to
make the most of his wonderful photography
... they have the lowest Prices on Software at Buy.com

---
---
Use this kit with your favorite design software and inkjet printer to create your own 8.5 in. x 11 in. photo album. It's a great keepsake or the perfect gift for the family or friends. Kit contains album cover and back, 15 sheets of two-sided photo paper, clear overlay, and easy click spiral binding mechanism. Acid and lignin free photo paper. Strathmore Digital Photo Album Kit photo album kit

from misterart.com - they also carry
Strathmore Digital Photo Paper 4 in. x 6 in. matte pack of 24

Strathmore Digital Photo Cards canvas finish pack of 10

Legion Paper Somerset Photo Inkjet Paper 8 1/2 in. x 11 in. velvet finish pack of 25

Burlington Printworks Premium Photo Paper 8 1/2 in. x 11 in. pack of 20 sheets glossy
---

Download Roxio Software at Roxio.com
---
---

consider a pair of binoculars with a built-in camera! a fun gift for
a guy who might already have a camera, he will enjoy the close-up convenience of these binoculars
---
Best Digital Cameras For 2010
By Kaitlyn Powell
Whether you are on an adventurous vacation in the jungle, your youngest daughter's school award's banquet or watching your family's nutty uncle attempt his craziest stunts, having a camera on hand keeps the event everlasting. With many great cameras on the market today, it is hard to decide which one will keep its durability and take fantastic, clear pictures. After grabbing up the top ranked cameras listed below, your photo albums will be the envy of the neighborhood, no matter how you spend your time!
Best Digital SLR Camera Overall
Digital SLR cameras put power in the photographers' hands for full creative control over their pictures with interchangeable lenses. Of course, there are automatic options for those consumers who are not as camera savvy. The top cameras in this category will have excellent performance, a variety of features and a realistic price. They are easy to use for people who have some experience with dSLRs and will give a great all-around picture wherever you go.
The Canon EOS Rebel T2i Digital SLR Camera receives the first place award in this category. It not only has excellent photo quality, it has a notable HD video quality, so you can make home movies as well. It outperforms others in its class by producing exceptional images with superb resolution and detail- nearly matching the quality of higher end cameras. The pictures will come out well in low light and in the highest ISO settings, resulting in a great picture no matter what time of day. It is easy to travel with: it has a compact size that will fit in most cases and a very lengthy battery life- you should be able to shoot for an entire day before having to recharge. For under $1000, this camera- with its plethora of features, excellent picture and movie quality and reasonable price- will give you thousands of reasons to snap away!
Best Ultra Zoom Digital Camera
With digital compact cameras, such as our top choice below, you could stand on one side of a football field and take a picture of the cheerleader in the other end zone or a blade of grass right by your feet. With this kind of versatility, these 10x+ optical zoom cameras are great for all-around use and traveling. Based on performance, image quality, features, zoom range and value, this is our top choice for a camera that can capture everything happening around you.
The Canon PowerShot SX20 IS Digital Camera is the update to the SX10, a widely identified top zoom camera. The SX20 delivers an incredible 20x optical zoom, which produces extremely sharp, detailed images. It lets you get super close to subjects that are hundreds of feet away. It is very fast, for quality action shots and has many features, such as face detection and scene models for first time users. What puts it above and beyond its competition is the HD movie mode, which easily plays back videos on an HDTV. You can also save up to 32GB of memory on this camera: if you took pictures constantly all day, you would still not fill up the entire card. With this camera, you will truly never miss a moment.
For more information about the Best Ultra Zoom Digital Camera and the Best Digital SLR Camera, visit the Digital Camera category on Bestcovery.com. Article Source: http://EzineArticles.com/?expert=Kaitlyn_Powell http://EzineArticles.com/?Best-Digital-Cameras-For-2010&id=4800250

Canon PowerShot S5 IS 8-megapixel Digital Camera
Big Impact in a Compact Package Full-featured, compact 8.0 Megapixel digital camera with a 12x Optical Zoom PowerShot S5 IS is compact and portable, with streamlined controls and a sure, steady grip. And you'll want to take it everywhere, because inside is a level of photographic power that's truly impressive. 8.0 megapixels ensure deeply detailed images - giving you complete freedom to enlarge an image or any section of an image and crop to your exact specifications. The 12x optical zoom brings this compact digital camera into the realm of serious photography. It has the power to take you right up onto the stage and into the end zone for the shot you really want. Zooming is fast and silent thanks to the ultrasonic motor drive. Catch Them in Motion Canon Optical Image Stabilizer Technology and ISO 1600 for steady shooting Life doesn't give you second chances to capture special times. That's why the elegant PowerShot S5 IS is equipped with Canon's acclaimed Optical Image Stabilizer Technology that automatically detects and corrects camera shake - one of the leading causes of fuzzy or blurred shots. So now even when you're zooming in tight, you can get the steady, crisp, brilliant images you'll be proud to shoot and share. And Canon's Optical Image Stabilizer Technology is so convenient to use. It functions perfectly with or without a flash. Canon Technology Maximizes Quality and Performance DIGIC III Image Processor with improved Face Detection Technology and Red-eye Correction for even better image quality and functionality With DIGIC III, you get images of superior quality, the camera functions at top efficiency and battery life is significantly enhanced. What's more, DIGIC III enables Canon's newly-improved Face Detection Technology and Redeye Correction to give you better, more true-to-life people shots. Simply press the shutter button halfway down and the PowerShot S5 IS automatically pinpoints the faces in the scene and chooses the ideal focus point. To keep every face looking bright and natural - without scary red eyes - the camera controls exposure settings and flash, so every shot is just what you were shooting for. DIGIC III Image Processor DIGIC III features Face Detection AF/AE, which finds multiple faces in the frame and sets the most suitable focus point when the shutter button is pressed halfway. And an additional new feature, Face Detection FE adjusts the flash based on a person`s face on the screen. Exposure and flash are controlled to ensure proper illumination of both the faces and the overall scene, eliminating the common problem of darkened or overexposed faces. Redeye Correction detects and automatically corrects redeye during playback for both regular and flash photography. Canon PowerShot S5 IS 8-megapixel Digital Camera
---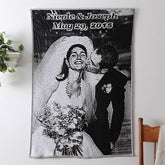 These heirloom portrait knits are entirely custom made ... this is not screen printing of any sort, rather a true knitted item.
Both afghan and pillow are created in stunning neutral black, white and grey tones as shown.
Afghan available in 2 Sizes: Generously sized Deluxe Afghan (40" x 60") is perfect for two to snuggle, or Standard Afghan (30" x 40")
is a great baby blanket, or for wall display. Features over half a million stitches in each afghan! Black & White Photo Afghan - Standard Size
Personalized Photo Gifts for Life's Celebrations from PersonalizationMall.com
---
Batteries.com
Digital Camera Batteries and Accessories

--- Use Coupon CodeCJ181 to receive 15% off entire purchase.
---
a word about buying used digital cameras ...
eBay has hundreds of cameras to choose from... I browsed them quite a bit, and I found that people were paying nearly-full price for USED cameras. I do not recommend buying a used digital camera unless it comes with a warranty. There are too many things that can be wrong with a used digital camera, and too many unfixable parts. A digital camera is almost like a mini-computer, if its been dropped in water, its worthless, it could have been dropped, etc... let me repeat, I DO NOT recommend buying a used camera. If you buy a camera from eBay, make sure it is a NEW unused camera with the original box, the accessories and the manufacturers warranty intact ... -nancy

---

---
---
Film Cameras and Accessories
...are becoming increasingly difficult to find.
Fortunately, some stores have plenty of fun lenses and
accessories for your guy who loves his trusty 35mm film camera!

Shoppers Choice carries plenty of film and film cameras:
ISO 200 35mm Color Slide Film

Olympus Stylus 105 All-Weather Film Camera Kit

Fujifilm Super HQ ISO 200 35mm Color Print Film

0.75x Wide-Angle Conversion Lens
and much more!
---
---

---
---
---

Magazine Subscriptions are the
PERFECT last-minute gift!
Don't forget the FREE printable gift cards!
Magazines are the gift that keeps giving... ALL YEAR !

---