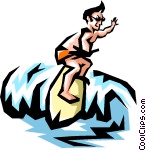 We'll all be planning that route
We're gonna take real soon,
We're waxing down our surfboards
We cant wait for June,
We'll all be gone for the summer
We're on surf-ari to stay,
Tell the teacher were surfin'
Surfin U.S.A.
-The Beach Boys
Does your man craves the waves ?
... even if you don't live by the beach, some guys just adopt that laid-back surfer attitude.
Here are some shops and some gift ideas that he'll be stoked about
---
---
---
---
Choosing A Surfboard
By Dave Emanuel
Thinking of buying a new board or are you learning to surf. One of the most difficult and also the most important decisions that every surfer makes is choosing their surfboard.
There are a myriad of factors which will influence your choice of board. Ranging from your experience, the waves you will be riding, your preferred style of surfing and more. Once you take all of these into account you then get to look at the surfboard itself.
Surfboards come in a range of styles and sizes and also have different manufacturing processes. The main shapes of surfboards are longboards, mini-mals, fish, shortboards and hybrids of these shapes.
The Mini-Mal - is used by beginners to advanced surfers. - Perfect for the person who likes the feel of a longboard but wants more maneuverability. Easier to carry and manage out in the water but with all the surfing ease of a longboard. Great for kids and smaller adults looking for a great beginners board or the experienced longboarder needing something more maneuverable.
The Longboard can also be used by beginners to advanced surfers - A modern replica of what the sport was started on. Paddle into what ever you want and hang ten all the way to the beach. Among the most popular boards in the water and for good reason, easy to start on and always fun.
The Softboard - Beginners to Intermediate - While it is usually by beginners you will often see an advanced surfer using them between the flags at the beach. This is the perfect board to learn to surf on, the length and width of these boards are designed to maximise stability and are easy to paddle on. The softboards have a slick bottom which ensures maximum speed and smooth rails to ensure easy turning. The soft construction of the board ensures you don't get hurt during the spills while you still enjoy the thrills.
The Retro Fish - Intermediate to advanced surfers - A popular alternative to the high performance shortboard. Created in the 70s, the fish is typically shorter and thicker than a short board and comes with a swallow tail and a larger twin fin set up. Its unique shape allows for a looser, faster board for fun on those smaller days. A great board for someone trying to make the transition to shortboarding or spends most sessions riding sloppy waves. Often comes with glassed in fins
Generally the better the surfer the smaller their board in length, width and thickness. But this is not always the case as some surfers prefer different styles of boards depending on when they paddle into a wave, how strong they are at paddling and how good balance they.
At the end of the day choosing a board is personal and you need to get advice from an expert. so where ever you purchase your next board make sure they provide advice and ask you questions about the factors listed above before you buy.
Good luck and happy surfing.
Dave Emanuel
Customer Support
Surfboards Direct http://www.surfboardsdirect.com.au Article Source: http://EzineArticles.com/?expert=Dave_Emanuel
http://EzineArticles.com/?Choosing-A-Surfboard&id=1030747
---
---


Are you throwing a party for your surfer guy?
You will find TONS of great tiki and luau party ideas at Nancy's Luau page !
Check it out!


---
---
---
---
---
Surfing And Surfboards
By Hannah Reid
Surfing is a phenomenal sport that can literally be picked up by almost anyone at nearly any age. A few surfing lessons can have just about any water bug hurling down the waves in no time flat, and finding out through first hand experience what all the fuss is about. Of course, there are certain terms that might confuse a beginner, and picking out your first board might seem a bit overwhelming. So let's just take a quick look at a few boards, what they are designed for, and who should buy them.
Longboards are the easiest surfboards to learn the art of surfing. Longboards are more stable than shortboards, and catch waves with less effort on the part of the beginner surfer. Some people swear by longboards for their entire surfing career, claiming that they are faster and simply more fun. And that's the whole point, right? Others feel that longboards are great for learning, but after a year or two, a "no longer newbie" surfer can get more out of shortboard or a fish or a fun board.
A fun board is also called an egg, named for its egg-like design. The fun board, as the name implies, is designed specifically for just hanging about in the waves and having a good time. It will not perform miraculous feats of trickery, but it will pick up the waves easily and provides a good deal of stability down the crest.
The fish is a little smaller than a fun board, with a tail called a swallow tail and fins known as twin, it can perform some feats of water based amazement and is mildly less stable down the crest when compared to the longboard or the fun board. It was used by famous surfers during the late 90s and early 2000s, making it more popular than it was in the 70s when it was first introduced.
The gun is a distinctive board. It resembles the longboard in length but it is thinner, less stable, and (also called the Thruster) likes large, intimidating waves. The gun can perform tricks when used by highly skilled surfers, but for a beginner, the gun would need waves that most beginners would find overpowering.
Each variation of the surfboard was designed for particular types of waves, surfing conditions, and skill level. Longboards were originally the only type of surfboard available, and an entire generation learned to do some pretty radical things while handling these gigantic boards. Shortboards and fun boards were designed with the average surfer in mind, and are definitely a design specifically for East Coast conditions. The gun is a very special board that requires more than average skill and more than average waves. Of course, anyone who wants to master more than the basics can sign up for a few more surfing lessons. Finding out every tidbit of information available about surfing and surfboards is not only beneficial to the surfer or potential surfer, but it's a great deal of fun.
For all your surfing desires and interests, take a peek at http://www.lets-go-surfing.info and learn everything you can about making your time on the waves more fun than ever imagined. --Hannah Reid (co-owner) http://www.lets-go-surfing.info
Article Source: http://EzineArticles.com/?expert=Hannah_Reid http://EzineArticles.com/?Surfing-And-Surfboards&id=1061668
---
---
---
---
Surfboard Signs make an excellent gift for the surfer in your life.
Each surfboard sign is manufactured in the US and is available in sizes ranging from 8 inches wide to 8 feet wide.
---
---
---
---

Magazine Subscriptions are the
PERFECT last-minute gift!
Don't forget the FREE printable gift cards!
Magazines are the gift that keeps giving... ALL YEAR !

---