Happy Easter!
20th of April 2014
5th of April 2015 - 27th of March 2016


EASTER CANDY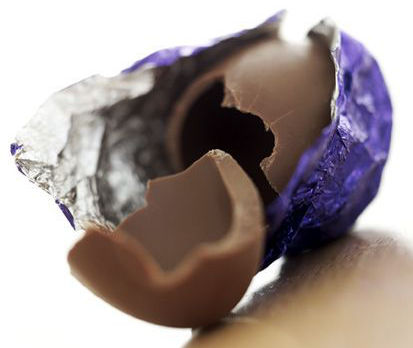 Candy is a major part of our Easter celebrations. Chocolate bunnies, jelly beans, and marshmallow peeps are just as important as the eggs!. Easter is said to be the second most important candy-eating occasion of the year for Americans.

Jelly beans are now a traditional Easter candy, but they did not become associated with the holiday until the 1930s. The association derives from their egg-like shape, which renders it a symbol of fertility and birth. It is estimated that U.S. manufacturers produce about 16 billion jelly beans during the Easter holiday. link

Chocolate bunnies are a very popular Easter treat. The Germans are credited with the creation of rabbit-shaped confections, having made long-eared pastries and cakes as early as the 1800s. Naturally, it didn't take too long for this tradition to reach North America.
Today, the chocolate bunny is the ubiquitous symbol of Easter. It is definitely the most popular Easter treat, and 76% of Americans say that they eat the ears first! Do You? link
It's also important to remember that quality candy is better than huge quantities of candy. Consider the recipeint and suit the candy to the person, and supplement the candy with healthy treats too!
Premium Chocolate & Candy Gifts

5% Off Easter Gift Baskets, Chocolate, Hams, and More at Wisconsin Cheeseman
Did you know
you can make your own
"cadbury" style chocolate eggs?
It is easier than it seems!! Once you mix the putty-like candy together, you roll the small "yolk" first, surround that with the white creamy candy until its egg-shaped, then dip it all in a fine chocolate. They may not be perfectly shaped but the taste will be SO worth it! You can easily find egg-shape molds in the stores to make them look professional
* 1/2 cups light corn syrup
* 1/4 cup softened butter
* 1 tsp. vanilla
* 1/4 tsp salt
* 3 cups powdered sugar
* drops of yellow and red food coloring
* 1 - 12 oz bag milk chocolate chips or chocolate bark.
* 2 tbsp shortening
Copycat Cadbury Creme Eggs for Easter! - Journals - CafeMom
Read more: How to Make Cadbury Creme Eggs | eHow.com

History of Chocolate Easter Confection
By Anne Harvester
The Mayans and Aztecs were two ancient people groups of Southern Mexico and Guatemala. What did they have to do with the history of Easter? This is where chocolate originated, and tied to the history of chocolate Easter confections provides a rich holiday legacy.
The Mayans and Aztecs discovered that the seeds of the cacao tree can be processed into chocolate. These early peoples mixed the ground cacao seeds with spices to create a beverage. The Aztecs used cacao seeds as money, and they exacted cacao seeds from their citizens and their conquered. In Aztec culture, only royalty and elite could drink chocolate, but in Mayan culture more people had access to chocolate. Both cultures used chocolate as religious offerings and during sacred rituals.
Spanish conquistadors, after exploring Mexico, brought the seeds with them back to Spain, and the cacao seeds eventually spread all over Europe. It was in Europe that the ground cacao seeds were mixed with sugar, and a new taste sensation was born. At this time in Europe only the rich could afford to drink chocolate.
The Industrial Revolution brought modern technology to the making of chocolate, and it was at this time that technology made it possible for chocolate to be eaten in its solid form. It could also be mass produced, making it more accessible to a wider audience. Even today machines are used to sort and clean the seeds, then weigh them. After this they are roasted and cleaned still further. At this point they get ground and through this process they are liquefied, then separated into cocoa solids and cocoa butter. Although each chocolate manufacturer has their own specific recipes for making chocolate, they all essentially mix together chocolate liquor, sugar, condensed milk and cocoa butter to create chocolate crumb. The crumb is pressed and forms chocolate paste, which is then blended in a large vat. At this stage, the chocolate is heated and cooled several times to temper it, making is shiny. After it is tempered, it can be poured into molds, forming all the familiar shapes in which chocolate comes. It can also be poured over flavored centers or the shaped chocolate can be filled with liquid. Finally, a machine is used to package the chocolate for sale.
The first solid chocolate Easter eggs were created in Germany and France around 1800. After this came the formation of hollow chocolate eggs, and with modern machines that could mass produce the confections, over time they became one of the best-loved Easter confections around the globe. To satisfy our worldwide sweet tooth requires the manufacture of ninety million chocolate Easter bunnies every year. Today's Easter baskets, filled with Easter gifts, are a chocolate-filled holiday tradition.
Anne Harvester is a homemaker extraordinaire with years of experience creating spectacular events and gifts. See her favorite Gift baskets, Easter gift baskets, Childrens Easter gifts [http://www.giftbasketsplus.com/store/gift-basket-products/childrens-easter-basket.html]. Article Source: http://EzineArticles.com/?expert=Anne_Harvester
http://EzineArticles.com/?History-of-Chocolate-Easter-Confection&id=496830
This poem was given to me by a friend,
with some tulle-wrapped jelly beans, very nice...

The Jelly Bean Prayer
Red is for the blood He gave
Green is for the grass He made
Yellow is for the sun so bright
Orange is for the edge of night
Black is for the sins we made
White is for the grace He gave
Purple is for His hour of sorrow
Pink is for our new tomorrow
A bag full of jelly beans colorful and sweet,
Is a prayer, is a promise, is a special treat
May the joy of Christ's resurrection
Fill your heart and bless your life

HERSHEY'S Easter – your source for Easter basket ideas, games, screensavers and recipes made with your favorite HERSHEY'S candies.
Get $5 off Dan's Chocolates 1 lb. Custom Photo Box. Or $3 off 1/2 lb. Custom Photo box.
Give the gift of Chocolate all year, with the
Chocolate of the Month Club


A couple of years ago, a good friend of mine got my family
started on a new and exciting Easter tradition...
It's not sticking firecrackers into hard-boiled eggs,
(yes, we have done that)... but how about...
Microwaving Peeps!
Yes, it's true! We take those cute little sugarcoated marshmallow figures, put them on a paper plate, and micro-go-round them for about 1-2 minutes, and watch them as they turn! It helps to have a big microwave, so everyone can see!! They bulge and grow, until they look like some kind of freaky alien deformation! You really have to try it at least once! Its hilarious!
It's fun for the whole family!
We certainly aren't the only ones to think of this,
here are some other folks "peep" pages:



Organize.com has your Easter covered from the egg hunt to the bedtime story.
We've even got recipes and fun Easter facts!
Plan your Easter gathering start to finish at Organize.com.




Games include customizable bingo cards; coloring pictures; fun word finds; puzzles; rhyming games and much, much more! All with colorful illustrations and formatted for quick and easy printing.