Happy Easter!
20th of April 2014
5th of April 2015 - 27th of March 2016


HARD BOILING EGGS
Nothing is more frustrating than boiling eggs.
For easy peeling - do not use fresh eggs. Use eggs that are several days old.
THE EASIEST WAY TO HARD BOIL EGGS
1. Put eggs in a heavy saucepan.
2. Cover with water and add 1 teaspoon salt.
3. Bring to a hard boil.
4. Turn off flame.
5. Cover and let set for 1/2 hour or longer.
They come out just right every time and they peel easily.

Boil up to 8 hard medium or soft eggs and poach up to 4 eggs to perfection every time.
Signal light goes off when eggs are ready for serving
Non-stick non-stain surface for easy cooking and cleaning
User guide/recipe booklet included 2 year warranty
Oster Egg Cooker: from Kaylx.com
Egg Decorating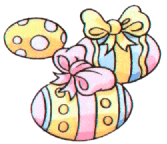 I love to decorate eggs. My favorite one are the ones that have been allowed to sit in the dye for a half hour or more, they get a deep, rich color, and usually some weird blotches too!



Another very-easy way to get some cute, colorful, eggs, is to buy some of those plastic shrink-wrappers.
It is an easy process, but it's not good for the kids to try without the parental units. You just place the plastic around the egg, and dip it in boiling water for about 10 seconds, using the wire dipper that comes with the coloring kits. The plastic shrinks to fit the egg, and you are done!..... The trick is to find some cute wrappers. They have a few of them at most stores, in the Easter dept, but you might miss them, unless you look for a flat cardboard package, about 4x4 inches square. They sometimes include a few in PAAS kits, too. Last year I found some really cute Winnie-the-Pooh wrappers,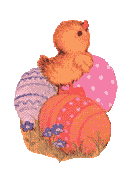 that I loved so much, that I saved some for this year!
I find coffee mugs perfect for egg dying. most mugs, filled half with dye, will hold one egg perfectly I also like the rag-roll the eggs with paint or dye, for a cool tie-dye effect. Sponges are cool too.

vegetable easter egg dyes
a chemical free way to dye eggs!
baby blue - smashed blueberries - fresh, canned or frozen
tan - outer skins of onions, dry, straining optional
lavender - grape juice- simmering optional
pink - beet juice
pale green - carrot tops (sorry not the actual carrots)
yellow - celery tops, use 5x the greens for pale yellow
cocoa brown - very strong coffee
expiriment with tea bags - various flavors can produce a variey of shades.
steep until water is cooled, and it should be dark enough
you'll need about 1/2 water, 1/2 dye material ...
sufficient water to dip the eggs after simmering 5 minutes and cooling...
overall, the more dye material the better...
=
IDEA - You could have an egg-decorating contest at Easter before dinner,
just put out a bunch of hard boiled eggs, all the decorating items,
plenty of butcher paper to soak up the mess, and have fun!











Organize.com has your Easter covered from the egg hunt to the bedtime story.
We've even got recipes and fun Easter facts!
Plan your Easter gathering start to finish at Organize.com.




Games include customizable bingo cards; coloring pictures; fun word finds; puzzles; rhyming games and much, much more! All with colorful illustrations and formatted for quick and easy printing.