Happy Easter!
20th of April 2014
5th of April 2015 - 27th of March 2016


EASTER ACTIVITIES
FUN & GAMES


In your Easter bonnet, with all the frills upon it,
You'll be the grandest lady in the Easter Parade.
I'll be all in clover and when they look you over,
I'll be the proudest fellow in the Easter Parade.
On the avenue, Fifth Avenue, the photographers will snap us,
And you'll find that you're in the rotogravure.
Oh, I could write a sonnet about your Easter bonnet,
And of the girl I'm taking to the Easter Parade.
-- by Irving Berlin


The day before Easter,
have an "Egg Decorating Party"
Have each guest bring a dozen cooked eggs to decorate, and have extras on hand. Cover the floors and tables in plastic, and set out lots of dyes and glitters and glue and get more ideas on my egg decorating page! Make multiple dishes of each color depending on the number of guests.
Serve egg shaped foods by using an egg cookie cutter to cut vegetables and sandwiches into egg shapes.


In my family, we often have a picnic for Easter. We've had backyard barbques, and many different trips to local parks. Some familys hold a formal dinner, much like Thanksgiving or Christmas. By the spring, I tire of the large-dark-indoor dinner, and yearn for the sunny outdoors.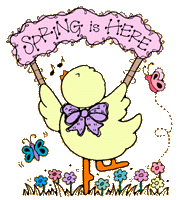 I think this year, I'll paint some clay pots white, and display them with flowering plants, and give them away to all the ladies after the meal...
For a casual lunch, white butcher paper is great to cover the tables. I really like the festive pastel "summerware" that's cheap at my local big-box store, so inexpensive, it's practically disposable! Sometimes the weather doesn't cooperate, but we always have a good time. Last time we played croquet, my 88 year old Grandmother beat us all!

Other fun games to play at Easter:
Egg roll (with your nose)
Egg-on-Spoon relay race
Egg Hunt bingo (mark eggs with bingo numbers)
Hopscotch while holding eggs in each hand
Egg toss (just like water balloon style)
Egg hunt raffle (mark eggs with raffle numbers to distribute prizes)
Read more: Easter Party Games | eHow.com






How about a COSMIC EGG HUNT?
For something new and fun, plan a moonlight egg hunt!!
Either very early in the morning, or even the night before Easter!
Equip everyone with colorful flashlights, and glow sticks.
Spray paint glow-paint onto eggs, or decorate with glow stickers,
and fill plastic eggs with small glow bracelets available at dollar stores.
Decorate with solar lighting and black lights!
You could incorporate other fun glow party games,
like a glow-beanbag toss, or glowing hot-potato.


Cute Easter Bunny costumes
for adults and kids at BuyCostumes.com


Printable Easter Fun Courtesy of Hewlett Packard


Music, Movies & Books for Easter


Easter Traditions: Seven Ways To Add Meaning To Your Family Celebration
By Susie Cortright

Family traditions connect us to past and future generations. They provide meaning and connection, as well as a sense of ritual and comfort. And they can create - and help to preserve - some of life's most moving moments.

Easter traditions can help to usher in a season of love, rejuvenation, and abundance. Here are seven ideas for sharing the sweetness of this special season:

- Start a kindness wreath for your doorway. For the week of Easter, give each family member 10 or more ribbons in bright spring colors. Each time a family member reaches out to someone in kindness during the week, they simply tie another ribbon onto the wreath.

- Ask your children to make a special drawing or a collage that depicts what Easter means for them. After you display them during the Easter season, scan them or take a photo and record the artwork in a special journal or album for a treasured Easter keepsake.

- Create a Garden Journal. Cover a composition book with spring patterned papers or photos/clippings of your favorite flowers. Document the process of creating your family garden this year. Make sure to include photos of your family members digging in the dirt. Record their favorite flowers and their favorite part of working in the garden...and, of course, lots of journaling and flower pressings.

- Fill an Easter basket with cheerful messages, handmade cards, or simple gifts. Then leave the basket anonymously on a friend's doorstep.

- If you have young children, video- or audio-tape them singing a fun seasonal song. Tapes of "Here comes peter cottontail" and "Little Bunny Foo Foo" can make treasured mementos. Share the tapes with distant family and friends.

- When it's time for your Easter brunch or Easter dinner, give each guest a 6x6 sheet of cardstock and ask them to handwrite a couple of special messages for the holiday...perhaps ways they are feeling renewed or grateful in their lives. Snap a photo of each guest and create a quick and simple 6x6 mini-album as a keepsake featuring one page for each guest (with their photo and contribution.)

- Make some handmade Easter greeting cards to send to family and friends. Or renew friendships by hostessing a card-making party where each guest makes 5 to 10 friendship cards. Make a point to send out five cards this spring to people with whom you would like to rejuvenate a relationship.

This holiday, may you embrace and celebrate the beauty that comes into our lives through our family and friends. (And enjoy lots of chocolate!)

Susie Cortright is the founder of momscape.com - http://www.momscape.com and Momscape's Scrapbooking Playground - http://www.momscape.com/scrapbooking - devoted to helping visitors record and preserve their cherished memories.Susie also trains and supports new scrapbooking instructors with a new and rapidly- growing direct sales scrapbooking company. Find out how to join her team here: http://www.momscape.com/scrapbooking/consultant Article Source: http://EzineArticles.com/?expert=Susie_Cortright


---
Check out the Easter Supplies at Shindigz.com

Internet Fun at Easter!

The Easter Pages - roll a virtual egg, find more about Easter bonnets,
send a virtual card, post a message to the boards, and more.


"Twas the Night Before Easter!"


Easter on the Net is a very nice site
brought to you by the folks at Holidays on the Net

Take a break and play a peep game:
Marshmallow Peeps In Outer Space!
A collection of Kids Easter short stories and tales from Children's Literature. Easter stories for children.



Organize.com has your Easter covered from the egg hunt to the bedtime story.
We've even got recipes and fun Easter facts!
Plan your Easter gathering start to finish at Organize.com.




Games include customizable bingo cards; coloring pictures; fun word finds; puzzles; rhyming games and much, much more! All with colorful illustrations and formatted for quick and easy printing.