Happy Easter!
20th of April 2014
5th of April 2015 - 27th of March 2016


Easter Recipes & Menu's
Pickled Beets are my favorite Easter food,
here is my mom's recipe...they are SO yummy!!
thanks mom!!
The recipe is modified from a recipe taken from
"Women's Day Encyclopedia of Cookery" Volume 2 published in 1966.

click here for a printer-friendly version

Scandinavian Pickled Beets
1 cup cider vinegar
2 onions thinly sliced
1/2 cup sugar
1/2 teaspoon salt
1/2 teaspoon peppercorns
1 bay leaf
4 cups (2 large cans) sliced or small whole beets, or both, reserve liquid.
In pan, combine all ingredients except beets with 1 cup liquid from beets. Add beets. Bring to the boil. For a sweeter pickle add more sugar. Serve hot or cold.
For great pickled eggs add peeled hard boiled eggs to the cooled beet pickling liquid. Let eggs pickle for several days for color to the yolk.
Beets, (without eggs) store well for several weeks in the fridge. Store eggs, in liquid, separate from beets, also in the fridge. Makes 12 servings.
Resurrection Cookies
To be made the evening before Easter.
You will need:
1 C. pecans
1 tsp. vinegar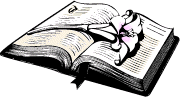 3 egg whites
Pinch of salt
1 C sugar
Zipper baggie
Wooden Spoon
Tape
Bible

Preheat oven to 300 degrees. Place pecans in sipper baggie and let children beat them with the wooden spoon to break into small pieces. Explain that after Jesus was arrested, He was beaten by the Roman soldiers. Read John 19:1-3.
Let each child smell the vinegar. Put 1 tsp. vinegar into mixing bowl. Explain that when Jesus was thirsty on the cross he was given vinegar to drink. Read John 19:26-30.
Add egg whites to vinegar. Eggs represent life. Explain that Jesus gave His life to give us life. Read John 10:10-11.
Sprinkle a little salt into each child's hand. Let them taste it and brush the rest into the bowl. Explain that this represents the salty tears shed by Jesus' followers, and the bitterness of our own sin. Read Luke 23:27.
So far the ingredients are not very appetizing. Add 1 C. sugar. Explain that the sweetest part of the story is that Jesus died because He loves us. He wants us to know and belong to Him. Read Psalms 34:8 and John 3:16.
Beat with a mixer on high speed for 12 to 15 minutes until stiff peaks are formed. Explain that the color represents the purity in God's eyes of those whose sins have been cleansed by Jesus. Read Isa. 1:18 and John 3:1-3.
Fold in broken nuts, Drop by teaspoons onto wax paper covered cookie sheet. Explain that each mound represents the rocky tomb where Jesus' body was laid. Read Matt.27:57-60.
Put the cookie sheet in the oven, close the door and turn the oven OFF. Give each child a piece of tape and seal the oven door. Explain that Jesus' tomb was sealed. Read Matt 27:65-66.
GO TO BED!
Explain that they may feel sad to leave the cookies in the oven overnight. Jesus' followers were in despair when the tomb was sealed. Read John 16:20 and 22.
On Easter morning, open the oven and give everyone a cookie. Notice the cracked surface and take a bite. The cookies are hollow! On the first Easter Jesus' followers were amazed to find the tomb open and empty. Read Matt 28:1-9.
click here for a printer-friendly version
Fradybunch Apr 2 1999
Here's our favorite Easter menu, after years of trying new things!!
Ham
Potato Salad
Green Beans
Sweet Potato Souffle
Deviled Eggs
Cornbread
EASY CAKE IDEA
Buy a Coconut Layer Cake... and an extra bag of coconut...
Mix a little green food coloring with grated coconut. Place colored coconut in center of cake and make a nest. Fill with colored jelly beans and position candy Easter Bunny next to nest. (start with a very small amount of green coloring, you can always add more if you want)

Hot Cross Buns



recipe
Hot cross buns,
One a penny buns;
One a penny,
Two a penny,
Hot cross buns.
Fresh, sweet buns,
Come and buy my buns;
One a penny,
Two a penny,
Fresh, sweet buns.
Nice, light buns,
Buy my currant buns;
Come and try them,
Then you'll buy them,
Nice, light buns.
Traditional Music By:
J.W. Elliott

A HISTORY OF
HOT CROSS BUNS
Maureen W Mar 29 2002
What time is dinner??
--here's our menu
Grilled leg of lamb
glazed ham
green beans
broccoli
mashed potatoes
tossed salad
bread
Homemade angel food cake with strawberries and whipped cream
And I made hot cross buns today--for breakfast on Easter Sunday -Maureen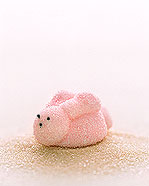 Handmade Marshmallow Treats from marthastewart.com
These piped chicks and bunnies are just adorable. Martha provides complete instructions with photos!



Easter Recipes - hosted page with recipes for Glazed ham, layered salad, roasted vegetables, dessert, hot cross buns.

A friend of mine, Barbara, told me how her mom decorates her Easter ham platter with colorful dyed pear halves. I love this idea, and I'm hoping to get a photo. She says they use canned pears & regular food coloring. Adorable!

Easter Recipes - including salads,
green bean casserole, and bunny cakes
So, who's coming to dinner?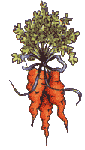 Mar 29 2002 Easter Menu:
Glazed Ham
Asparagus/or Green Beans simmered with Garlic, & Tomato Chunks
Potato Salad
Creamy Fruit Salad
Pickle & Relish Dish (carrots, pickles, celery, etc.)
Yeast Rolls
Deviled Eggs -
Homemade Coconut Milk Cake, Topped with
flaked coconut and Jelly Bean Nest;
Iced Tea/Coffee
Choice of wines appropriate to the meal -- Cea
Kitchenlink has MANY Easter recipes
& links to Easter recipes
An Easter menu with recipe suggestions.
A ham dinner and lamb dinner, along with dozens of Easter recipe suggestions.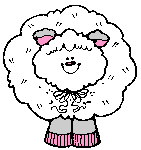 Michael Gottuso Apr 9 1998 - My Easter Menu
Heres my first Easter menu and I'm very anxious to make it for my
family visiting me in Florida from NY.
Fruit Salad (mixture of blueberries, kiwi, watermelon, cantaloupe,
honeydew, strawberries, red grapes)
Roast Chicken Breasts coated with a blend of crushed weston
stone crackers, toasted pecans, fresh basil, and asiago cheese
Steamed Asparagus with lemon butter sauce
Chilled Red Potato Salad with cucumber, parsley, basil, and
hard-cooked eggs (dont forget I live in sunny Florida)
Butter Flake Rolls from the local bakery along with jams and butter
Creamsicle Cake - orange cake soaked with orange jello,
topped with a frosting of cream and vanilla pudding
(perfect for family visiting the orange country)
And some dyed eggs of course!
I want to make the Easter lunch light and simple since the climate here is hot and sunny. -- Michael
Easter Recipes from Italy - Easter menus from Sicily, Tuscany, and Rome
including recipes for roast lamb, appetizers, easter breads, and desserts.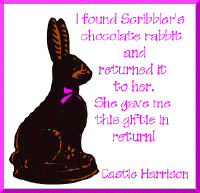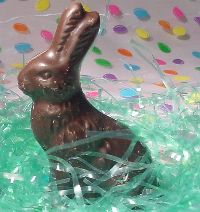 I got a chocolate rabbit For an Easter treat,
A great big chocolate rabbit, Good enough to eat.
So I ate his ears on Sunday,
his nose I finished Monday,
Tuesday I nibbled on his feet.
I ate his tail on Wednesday,
Thursday I kept on,
By Friday he was going,
Saturday he was gone.
Oh, I loved that chocolate rabbit, From the moment that he came,
And if I get another one, I'll love him just the same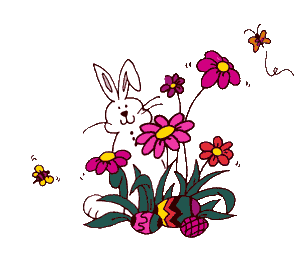 Organize.com has your Easter covered from the egg hunt to the bedtime story.
We've even got recipes and fun Easter facts!
Plan your Easter gathering start to finish at Organize.com.




Games include customizable bingo cards; coloring pictures; fun word finds; puzzles; rhyming games and much, much more! All with colorful illustrations and formatted for quick and easy printing.