*Adorn the buffet table with tropical fruits like fresh
pineapple and papaya, and bowls of macadamia nuts
- delicious decorations!
*Lay ti leaves under each dish.

RECIPES:
Pineapple Lu'au Style Cut a thick slice from the top and bottom of an unpeeled pineapple.
Remove center of pineapple in a single cylinder, leaving 1/2-inch of the fruit inside the rind. Cut peeled fruit in quarters lengthwise, remove core and cut into eight spears. Replace bottom piece; refill shell with spears and replace top.
Serve by removing crown and pulling out the pineapple spears. Makes 8 servings. -- More recipes at The Complete Luau Menu
=== ROAST PORK, HAWAIIAN STYLE ===
Pork butt or fresh leg of pork (allow 1/2 to 3/4 pound meat with bone per person)
1 tsp per pound of meat - rock salt (red or white)
1 tsp per pound of meat - liquid smoke flavoring
1 tsp per pound of meat -
soy sauce
about 4 unpeeled bananas
medium sized sweet potatoes, scrubbed, not peeled (allow one for each person) 4 to 6
ti (or lettuce) leaves
2 Tbsp per pound of meat - water
Place meat on a large piece of heavy aluminum foil. Sprinkle with salt, smoke flavoring, and soy sauce. Arrange bananas and sweet potatoes around the roast. (The bananas are used for flavor only, and should be discarded when the roast is cooked.) Pull the foil up around the meat, bananas, and potatoes; cover the meat with ti leaves and add the water. Finish wrapping the meat in foil, using several sheets if necessary to seal it tightly. Let the package stand several hours or overnight in the refrigerator in a large shallow pan, turning it several times to distribute the juices and let the flavors penetrate the meat. Roast the meat with the fat side up for maximum juiciness. (Mark the package, so you'll know which side has more fat.) Put the pan and the meat package in a 500 F oven for one hour; then lower the oven temperature to 400 F, and roast 3 more hours for a 3-pound roast, and then an additional 20 minutes for each pound of weight above 3 pounds

=== Luau Sweet Potatoes ===
1 lg can of yams
2 bananas sliced
1 can crushed pineapple, or fresh
3 oz chopped macadamia nuts
2 tbsp rum
1/2 cup brown sugar
4 tbsp butter, melted
Place yams in an oven proof dish, add bananas. combine pineapple brown sugar and rum and pour over potatoes and bananas. Sprinkle with macadamia nuts bake at 350 for 25-30 mins until bubbling.
=== Haupia ===
1/3 cup cornstarch
1/2 cup sugar
1/8 teaspoon salt
24 ounces frozen coconut milk
Combine cornstarch, sugar and salt. Add 1/2 cup coconut milk and blend into a smooth paste. Heat remaining milk and add cornstarch mixture. Cook for 20 minutes, stirring frequently until thickened. Pour into 8" square baking pan. Cool and refrigerate. Cut into squares.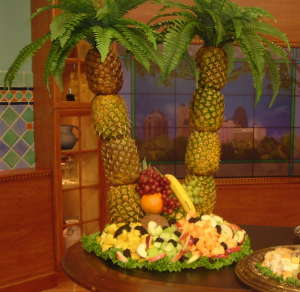 I cannot remember where I got this photo - but WOW what a cool party decoration! Those are ferns on the top- real ferns could be potted into the top pineapples! Fake ferns would work as well, but not look as nice as this... I am trying to think what sort of stick they used to stack those pineapples, and how did it stand up without falling over. I'm thinking like an heavy wooden base with the two poles attached, and space for the fruit display on the base as well ... WOW. Kudos to the designer of this - who are you?
=== SOUTH SEAS SHRIMP SALAD ===
2 bunches scallions
1 1/2 pounds fresh spinach
2 (4 1/2 oz size) cans cooked shrimp, drained
1/4 cup soy sauce
1/4 cup salad oil
1/4 teaspoon ground black pepper
Trim green tops from scallions. set aside scallion bulbs. Chop green tops fine. Wash spinach , shred; put in salad bowl. On top of greens, pile chopped onion tops, then shrimp. Arrange onions in spokes of a wheel fashion around salad. In a jar with tight fitting lid, shake soy sauce, salad oil and pepper to combine thoroughly, use as dressing for salad. makes 6-8 servings.
===FISH IN COCONUT MILK ===
1 lb whitefish, very fresh, skinless and boneless, cut into 1/2-inch cubes (cod, snapper or halibut is suggested... keep in mind that it must be fresh!)
1 tsp kosher salt
Juice of 2 limes 1 clove garlic, peeled and crushed
3 scallions, chopped
1 cup canned coconut milk
1/4 cup peeled and chopped white onion
Garnish: Toasted sesame seed
Place the fish in a stainless-steel or glass bowl. Mix salt and lime juice and toss with the fish. Allow to marinate for 4 hours in the refrigerator. Remove and drain the fish. Add the remaining ingredients and toss well. Chill again before serving. Garnish with sesame seeds. Serves 8 as appetizer course

=== LOMI LOMI SALMON===
1 1/2 lbs moist smoked salmon or salted salmon or lox, skinned, boned, and sliced
3 medium ripe tomatoes, diced
6 scallions, chopped
2 cups peeled and chopped white onions
1 cup crushed ice Mix all the ingredients together and serve cold. Serves 10 as a light salad course

=== SPINACH AND SQUID ===
Traditionally this dish is made of cooked ti leaves and octopus. This quickie method is delicious and saves you at least a day in preparation!
2 10-ounce boxes frozen whole spinach
1 10-3/4 ounce can cream of chicken soup
1 1/4 lbs squid, cleaned and cut in rings
pinch of ground white pepper salt to taste
Defrost the spinach and drain. Chop it up just a bit and heat in a large saucepan along with the soup. When all is simmering, add the squid and simmer gently until tender, about 10 minutes. Season with pepper and salt to taste. This is simply eaten with a spoon or your fingers. Serves 8
Aiea, HI is the home of www.alohafunwear.com
the place for Hawaiian shirt and Hawaiian dresses
===CHICKEN WITH LONG RICE ===
1 1/2 lbs chicken hindquarters (thighs and legs)
2 slices ginger, each the size of a 25-cent piece
1 Tbsp plus 1 tsp salt
2 Tbsp oil
2 cloves garlic, peeled and finely chopped
12 ounces Chinese mung bean noodles or sai fun noodles (Any Chinese store has these)
2 Tbsp light soy sauce
1 tsp salt ground white pepper to taste
1/2 cup mushrooms (canned straw mushrooms would be great)
Garnish: 5 scallions, sliced
Place the chicken quarters in a heavy 4-quart lidded pot and add the ginger and 1 Tbsp salt. Cover with water and bring to a simmer. Cook until tender, about 45 minutes. Turn off the heat, cover the pot, and allow the chicken to cook in the broth. When cool, remove the chicken from the broth, reserving the broth. Debone the chicken and discard the bones and skin. Dice the meat. Discard the ginger slices in the broth. Set both the chicken and the broth aside. Heat the pot again and add the oil and the garlic. Saute for just a moment and then add the noodles. Add just enough of the reserved broth to cover. Add the remaining 1 tsp salt and all the remaining ingredients, including the chicken and bring to a simmer. Cook until all is tender, about 5 minutes. Do not overcook the noodles or they will become soft. Garnish with the scallions and serve. Serves 8-10 as a noodle course

MACADAMIA NUT CRUSTED
COCONUT SHRIMP
1/4 cup all-purpose flour
1 pound cleaned and deveined shrimp
1/2 cup coconut milk
1/4 cup crushed macadamia nuts
Preheat oven to 400 degrees Fahrenheit. Lightly coat a baking dish with olive oil. Place flour in a small bowl. Dredge shrimp in flour, then dip into coconut milk and roll in crushed macadamia nuts. Place in baking dish and bake for 10 to 15 minutes, or until shrimp is cooked through. Serve 3 shrimp on a bed of rice topped with orange lime sauce. Makes 4 servings -- from Popular Luau Recipes
Mauihoney's® Original Hawaiian Recipes
Alan Wong's New Wave Luau: Recipes from Honolulu's Award-Winning Chef
(amazon)