Easy & Eerie
Recipes


---
Cat Litter Brownies
Make brownies, except roll them up into cat-turd shapes. You could also push the hot brownies thru a pastry bag. Serve the brownies in a brand-new clean cat pan, or casserole pan full of grape-nuts or other cereal to look like cat litter! Cover some of the brownies partially, and make sure to leave some 'turds' running up the side of the litter box. Scoop them out with a brand-new clean cat litter scoop!! yuk!
---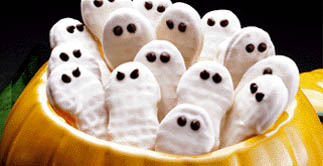 Nutter Butter Ghosts
Really easy and cute cookies that my mom made last year. Simply dip Nutter Butter cookies in melted white chocolate coating, and add two mini-chocolate chips for the eyes. let them set on a wire rack. sweet!

---
Simple Pimples
1-2 dozen small (cherry or grape) tomatoes
1 tub soft cream cheese spread
Core tomatoes with a carrot peeler or knife. Drain excess tomato juice. Fill holes in tomatoes with cream cheese. Give each pimple a gentle squeeze and arrange on a platter. For an extra tasty version, use flavored cream cheese, or use your favorite spread recipe.
---
Crispy Creatures
Cut halloween shapes out of corn or flour tortillas, with cookie cutters, and you can bake or fry them, and season as you wish for a crunchy, creepy treat!
---
"Handwiches"
Spread soft white bread with red colored cream cheese and roll up and squish them lengthwise in your hand. They come out looking like bony fingers. Put cut up olive or sliver of almond on tip for the fingernail. more
---
Open Skulls with Brains
Cut baked potatoes in half, scoop them out, and save the insides for shepards pie (below)
Fill the potato skins with prepared spaghetti with marinara sauce. Serve hot!
---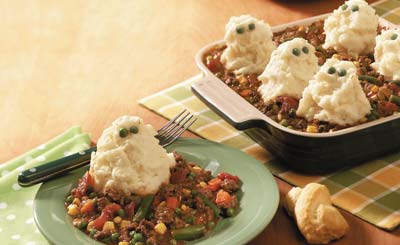 Ghostly Shepherds Pie
Prepare your favorite recipe for shepherds pie - but pile your mashed potatoes up into tall ghostly shapes and use two peas on each mound for the ghost's eyes.


---
Bloody Eyeball Eggs
6 eggs, hardcooked, cooled, and peeled
6 oz whipped cream cheese
12 green olives stuffed with pimientos
red food coloring or ketchup

Slice eggs in half eggs widthwise. Remove yolks and fill the hole with cream cheese, smoothing surface as much as possible. Press an olive into each cream cheese eyeball, pimiento up, for an eerie green iris and red pupil. Dip a toothpick into food color or ketchup and draw broken blood vessels in the cream cheese.
---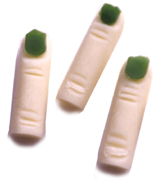 Family Fun Cheese Fingers
Cut store-bought mozzerlla cheese sticks in half, and use a paring knife to carve a bed for the 'fingernail' and carve two sets knuckle-wrinkles to make them look like fingers. Those wrinkles might take a while, but are worth it. If the fingers roll around too much, shave some of the cheese from the underside to level them. Cut 'fingernails' from red or green bell peppers, (or other suitable vegetable such as cucumber or olives) and attach with a dab of cream cheese or Kraft Easy-Cheese in a can.
---
Dead Man's Meatloaf
Use your favorite recipe, but instead of shaping it into a log shape it into a corpse. Legs together, arms folded across chest. Bake as usual, but before serving, stab the poor guy in the heart and dump ketchup on him. Guaranteed to gross out just about anyone! more
---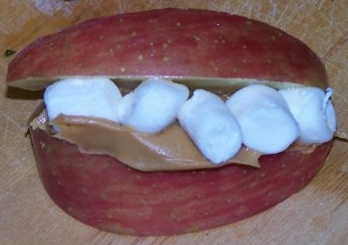 Monster Mouth:
A Cute and Healthy Party treat!
Cut red apples into 6-8 neat wedges, Sandwich two pieces of apple together, with a good helping of peanut butter, place mini-marshmallows in a row, on the red side, (the lips) to look like "teeth"

---
Used Bandage Cookies
* 10 graham crackers (get extra in case they break)
* Strawberry or any red fruit roll-up
* 20 large marshmallows
* 6 tablespoons milk
* 2 teaspoons vanilla extract
* 2 cups (powdered) confectioner's sugar
* 1 drop red, 2 drops yellow food coloring (to create "peach-tone")

1. Break graham crackers neatly into fourths along the perforated lines.
2. Unroll the fruit roll-up and tear off 40 dime-sized pieces to be used as scabs.
3. Cut marshmallows in slices widthwise and cut edges off to make squares. This will be the white center "gauze" part of the bandage.
4. Place milk and vanilla in a measuring cup and microwave on high for 20 seconds. Add confectioner's sugar with whisk. Add two to three drops of orange food coloring to make a classic bandage color.
5. Frost each graham cracker with the above mixture. Coating should be thin enough that the holes on the graham cracker will come through.
6. Press a marshmallow square down in the center of the graham cracker.
7. Moisten one side of a fruit roll-up pieces and place on top of the marshmallow.
Makes 40 cookies