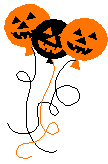 Halloween Party Ideas

The main things you need for a happenin' halloween party are:
Decorations,
Food,
Music,
Activities,
and of course, GUESTS!!
Halloween is a very popular party event,
Keep Reading for TONS of great ideas

send out your invitations early!
like the last week of September, first week of October -
Even earlier if you plan on inviting people from out of town ...
Your guests will appreciate the advance notice,
and the weekend nights around Halloween will book quickly....

A couple of hip kids in my neighborhood are
in the business of drawing and designing their own rubber stamps...
it is the coolest collection of rubber stamps I have ever seen....
visit Sideshow Stamps, and create your own invitations and party supplies!




Cute & Festive Activity:
Pumpkin Golf:
Object of Game: Hit the golf ball into a pumpkin.
Preparation: Carve out a pumpkin. Make the mouth extra large. Build a cardboard ramp about one to two feet side from the ground to the bottom of the pumpkin's mouth. You will probably need some support under the cardboard. Tape the ramp to the floor for stability. Mark a starting point a few feet from the start of the ramp. The older the kids, the farther away they should putt.
Playing the Game: Each player gets to hit a golf ball three times. Each time the ball goes into the pumpkin, the player wins a piece of candy. From Pumpkin Nook's Halloween Party Games

It's time for a Theme Party!
Throwing a party with a unique theme lets your guests use their creativity. Not to mention how fun it is to decorate with
balloons
and
party supplies
. For a thriller party, check out
Party Themes
and
costume ideas
below from BuyCostumes.com:
| | | |
| --- | --- | --- |
| Adult Party Themes | | Kids Party Themes |
| | | |

"Happy Halloween" Beverage Tub

Rust-resistant, watertight metal beverage tub has a haunted house design and "Happy Halloween" - perfect for your spooky celebrations! Great for bobbing for apples, setting out treats, or used as an ice bucket or planter. Sturdy handles for easy and convenient transportation. Use indoors or out. 24 x 13 1/2 x 10"H.

"Spooky Shadows" Light

This Halloween, what will you find lurking in the shadows? Frosted dome rotates on the purple base and casts large, haunting, Halloween-inspired shadows across the ceiling, floor, walls, and other surrounding surfaces. Create the perfect Halloween scene in any room! No outlet required - takes 2 "C" batteries (not included).

Pumpkin Bowling

Paint six 2-litre bottles to look like candy corn, orange, yellow, and white... and fill them half-full of water, put the caps back on.

Set up bales of hay for the edges of the "lane" ...

Choose small, easy to handle, fairly smooth pumpkins so they will roll more easily.

Let the kids take turns rolling pumpkins toward the bottles and see if they win a prize!

---
Mannie's Halloween Partys - really fun annual Halloween party's
Halloween Cards and Invitations - Templates, Fonts, Clip Art, Tips -


Free Original Clipart at Designed to a T


Skeleton Scavenger Hunt:
Purchase plastic skeletons and disassemble them. Hide the bones before the party starts.
Let the kids search for them and then reassemble the skeleton.
For older kids, you can hide the bones and then write out clues for them to follow.
You can also get a few skeletons and break the kids into teams.
... more great games like this at ABOUT: Halloween Crafts, Games, Activities


Tiki Terror
a fun Halloween party theme!

"Haunted Luau" is a really fun mix of skulls and luau decorations.

You could incorporate clearance luau decorations with spiderwebs and skeletons! Name your party "

Tiki Terror

" or "

Haunted Hawaii

" or "

Skull Island

" -

Play traditional luau games like limbo, and serve tropical drinks! For island recipes, click here for Nancy's Luau Page

.... and don't forget to order some "Haunted Luau" party supplies

---

More Island Themed Party Supplies:

Get your custom box of 64 crayons from Crayola.com!

Halloween Horror E-Cards @ halloweenhorrors.net


Consider having a Fortune Teller at your Halloween Event!
Set up a gypsy style tent, colorful, with a table inside - use sheets or fabric hung from the ceiling indoors, any private location with seating for 2 or 3. Decorate with yards of fabric, pillows, jewels, mood lighting, electric candles only (be careful).
You can hire a professional fortune teller, or if you have someone who enjoys it, let them use their preferred method of foretelling the future. It's always fun to have them dress as a gypsy.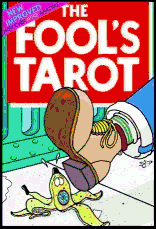 Sometimes its fun just to tell people something about themselves, rather than trying to predict the future.
Runes, Tea leaves, Astrology (zodiac), Numerology, Palm reading, and of course Tarot - are methods that can be used.
Keep the readings lighthearted and fun ...
Dreadwilliam's "The Fool's Tarot" is the only comedy tarot deck I've ever seen. Every card is brightly colored and humorous. A funny reference guide is also available... these readings are really easy for anyone.


Buycostumes.com
Same Day Shipping

- Most orders placed before 2pm CST will ship the same day. Rest assured your party supplies will arrive on time.
ambient electronic party music
free downloads
spacerust
"Pumpkin Carving Party"
During a recent online chat with Snoo, she told me how she's having her 2nd annual carving party this year,
for her 10 year old daughter and about 5 friends....
I thought, what an adorable idea! It's a perfect pre-halloween party theme, without the hassle of costumes.

Make sure you have plenty of pumpkins for everyone, and all the tools necessary.

Include scrapers, spoons of all sizes, varied knives (depending on the ages of your guests), chisels,
straight pins, nails, construction paper, yarn, spaghetti works well for spiky hair - uncooked of course, sharpies to draw with, candles, glow sticks, drinking straws, stencils....

Keep the mess in check with plenty of Halloween plastic tablecloths on the tables and floor.

Provide plenty of bowls or trash bags to hold the stringy "guts".

If anyone's inspired, have them clean and roast the seeds from all the pumpkins during the party.

Simple Halloween decor is all you need - the real star of the party is the jack o'lanterns!

Encourage children to wear washable clothes,
no costumes required for this simple halloween-time party

The carved pumpkins are perfect favors for everyone to take home,
or to plan the party on a budget, have everyone B.Y.O.P. Bring your own pumpkin!

Or, provide all the pumpkins, let them carve two apeice, keep one afterward let them take the other home,
and require that the guests stop by Halloween night to see their creation on display in your yard.
How's that for some free-halloween-labor trickery? ~ nancy

Halloween Bingo




Horror Movies to
Frighten your Party Guests!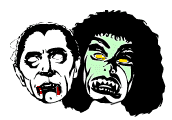 TV can kill a great party,
but if a popcorn-munching scare-fest is the sort of evening you have planned,
then you'll find lots of great films here to make your guests squirm!!
GoreNight's Home Horror Splatter & Gore Movies Pictures, Videos, Sounds, Scripts of Cult - Horror Movies: Pulp Fiction, Reservoir Dogs, From Dusk Till Dawn, Evil Dead 1-3, Braindead, Bad Taste, Dawn Of The Dead, Dead Next Door, Tanz Der Teufel


dumptv.com is the home of Dumpsterpiece Theatre - an online TV show dedicated to B movies and the people who love them. Bringing the drive-in to your living room since 1994!
Carfax Abbey - Horror Film Database

badmovies.org - a safe place to indulge in your more unsavory cinematic tastes - highly recommended website

The scariest movies for Halloween - Watch now!

A Note from Nancy - I'm not a big horror movie fan, but I do have a few favorites. The following are somewhat more funny than scary, but with plenty of gore to go with your halloween movie-night theme!

Slither - Having written for the jubilant trash-mongers at Troma Films before scripting 2004's well-received remake of Dawn of the Dead, writer-director

James Gunn

crafted this

hilarious splatter-fest

as an homage to the comically violent horror films of the 1970s and '80s, and he gets it just right with a low-budget look, perfect casting, grisly make-up effects and judicious use of CGI gore.

Shaun of the Dead - There comes a day in every mans life when he has to get off the couch and kill some zombies. "Shaun of the Dead" isn't so much a zombie movie, as a love story with zombies -- a very funny one, with lots of gore.

Cannibal! The Musical is the funniest "cannibal" movie you will ever see.
A college film from the creators of South Park!!
.....only a little gore, but.....really really really funny.... a great party movie for adults, and the commentary track is hilarious as well!