Tips For a Safer Halloween
As witches, goblins and super-heros prepare to descend on neighborhoods throughout the world, the American Red Cross offers parents some safety tips to help prepare their children for a safe and enjoyable trick-or-treat holiday. Most Halloween injuries are preventable if some simple precautions are taken. The Red Cross offers you the the following "lucky 13" safety tips for parents to share with their trick-or-treaters:
Red Cross Halloween Safety Tips: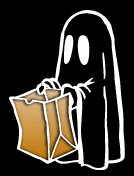 1. Plan your route and share it with your family. If possible, have an adult go with you.
2. Wear light-colored or reflective-type clothing so you are more visible. (And remember to put reflective tape on bikes, skateboards and brooms too!)
3. Use face paint rather than masks or things that will cover your eyes.
4. Cross the street only at corners.
5. Look both ways before crossing the street to check for cars, trucks and low-flying brooms.
6. Donít hide or cross the street between parked cars.
7. Walk, slither and sneak on sidewalks; not in the street.
8. Carry a flashlight to light your way.
9. Visit homes that have the porch light on.
10. Accept your treats at the door and never go into a strangerís house.
11. Be cautious of strangers and animals.
12. Keep away from open fires and candles. (Keep in mind that costumes can be extremely flammable.)
13. Have a grown-up inspect your treats before eating.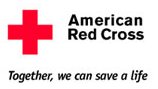 And donít eat candy if the package is already opened. Small, hard pieces of candy are a choking hazard for young children. The American Red Cross is dedicated to helping make families and communities safer at home and around the world.

COSTUMES
*The first concern for Halloween safety are accidents related to costumes. Costumes should be light colored. Consider using reflective tape, a glow-in-the-dark bag, or a flashlight to make your child more visible to traffic.
*Costumes must also be flame-retardant, and short enough to avoid tripping.
*Masks must not interfere with breathing or sight. Non-toxic makeup (instead of a mask) would be safest.
* Plastic bags are a suffocation hazard. Never use plastic bags for any part of the costume even if holes are cut in the bag. Also, avoid using plastic bags to collect candy and treats.
*Costumes should either be warm enough, or allow for warm clothing underneath. Don't let your child go out without being dressed for the weather. Insist on a warm jacket even if it's not part of the costume.
*Accessories such as swords and knives must be made of a soft flexible material. Avoid sharp points, swords and knives should be rounded at the end.
*Avoid putting anything around your child's neck that may be a strangulation hazard. Capes can be sewn to the back of a costume rather then tied around the neck. Also watch out for jewelry around the neck.

PUMPKINS
*Children should not be allowed to carry candles even if they are inside of a pumpkin. Use a flashlight inside of pumpkins instead of lit candles.
*Avoid cutting accidents by prohibiting children from carving the pumpkins. Have an adult carve the pumpkin after the child draws the face. Another option is to just let the children paint faces on the pumpkin.
Eat a good meal prior to trick-or-treating.
Consider fire safety when decorating for Halloween.
Plan and review with your children the route you will take when trick-or-treating.
Be visible and use a flash light during night hours.
When designing a Jack O' Lantern, leave the carving to adults!

TRICK OR TREATING
*Stick to your own neighborhood where the children are known and recognized.
*Children should be accompanied by a responsible adult during the day or night.
*Forbid your child from eating any treats until he or she gets home. If there is a poisoning or accident with the treats, you want them home when it happens.
* Feed your children a nice big meal before they go out so they aren't hungry on the trail. Consider a separate "safe" bag that you put your children's favorite candies in before they go out. Tell the children that they are only allowed to eat out of the special "safe" bag. Only use this method if you think your children will know the difference between their "safe" bag from home, and the collected treats bag.
*Be prepared for a poisoning. Have at least one bottle of "Syrup of Ipecac" for each of your children. "Syrup of Ipecac" is used to induce vomiting. It must only be used under the advice of a doctor or poison control agent. Look up the number of your local Poison Control Center before your children even go out. Have it handy in case of a poisoning.
*Check the treats for candy that may have been unwrapped. Don't allow your child to eat any homemade foods unless you are positive of who made them. Some local hospitals will X-ray treats for razor blades and other sharp objects. Check with hospitals in your area for this service.
*If you find anything that is highly suspicious, bring it to the police. Check with your child to see if he or she remembers where it came from.
*Remind children about traffic safety rules. Don't allow them to walk in the street. If there are no sidewalks, they should avoid the block or walk on the grass.
*Warn children against going into poorly lighted areas.

ALTERNATIVES
*Consider throwing a Halloween party for your children and their friends instead of door to door "Trick or Treating".
*Consider non-food treats for children who come to your door. Safe party type favors or gift certificates are good ideas. Avoid any small items that children may put in their mouths and swallow. If an item can pass through a toilet paper roll, it is too small! CHILD SAFETY FORUM http://www.gastown.com/safe

More Halloween Safety

ASPCA Offers Halloween Safety Tips For Pets
U.S. Consumer Product Safety Commission Halloween Safety Alert

I miss trick or treating!!! The old days of letting kids run all over the neighborhood is over in most cities. To be safe, most parents take their kids to the mall, or only to houses of people they know. Safety is the most important thing, so only go to homes you trust.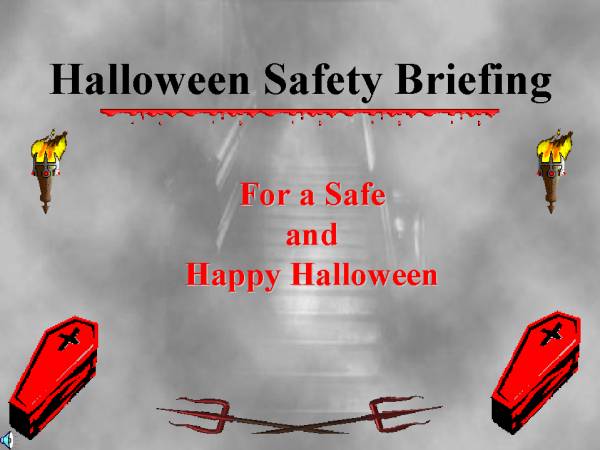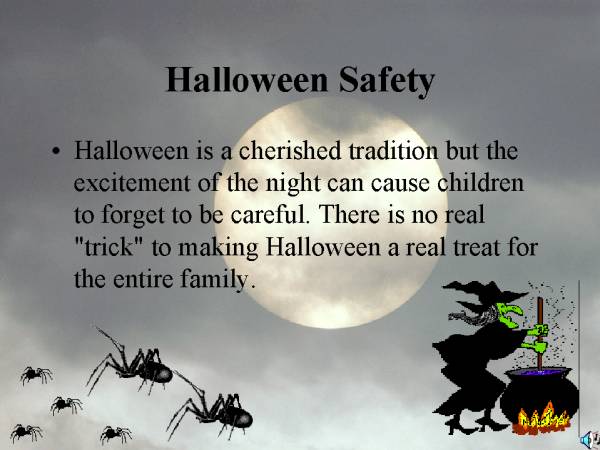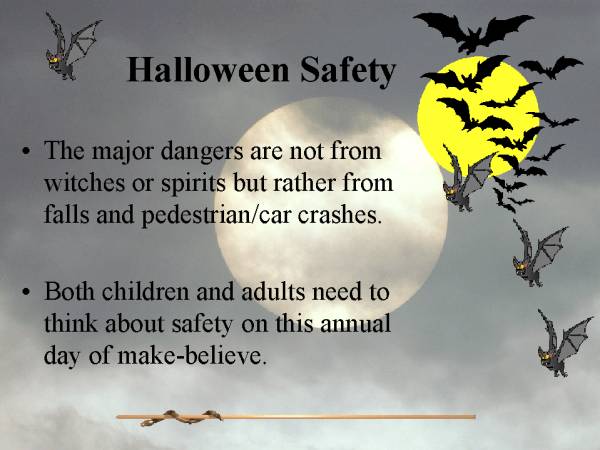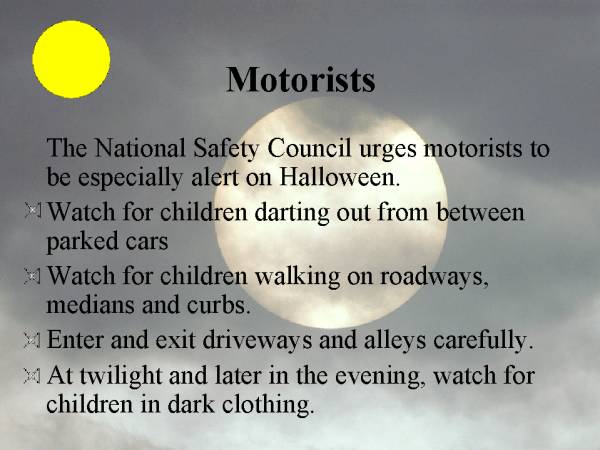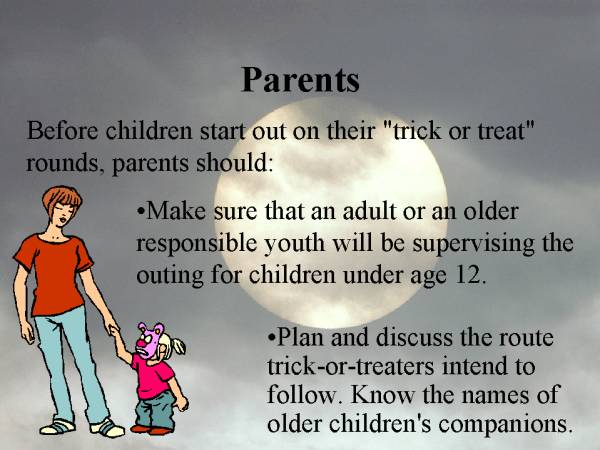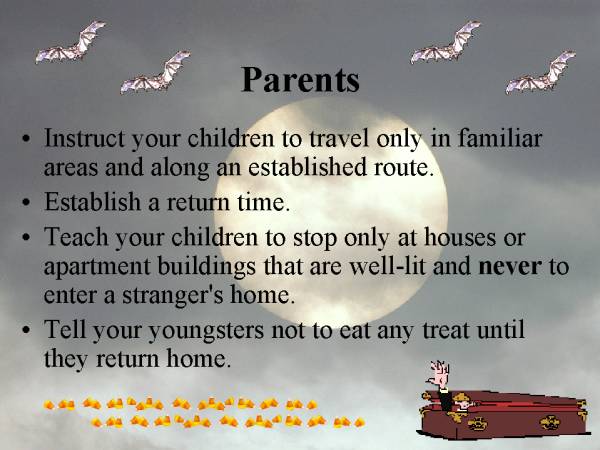 Don't Go Bump in the Night!: Halloween Safety
@walmart.com
Home Owners
Tips For Halloween Safety
By Rose Smith

Halloween is fast approaching and safety comes to mind with all the young trick-or-treaters roaming the streets at dusk. Here are some pointers for home owners to help insure the safety of others as they approach your door for their treats.

Clear your yard of things that could trip up ghostly visitors. Remove and store away ladders, water hoses, flowerpots, rakes, and dog chains/leashes.


If you carve out jack-o-lanterns and plan to use lit candles, be sure to place the pumpkin well away from the stairs and walkways. Trick or treaters could inadvertently bump into the pumpkin and catch their costume on fire.


Make sure that any paper or cloth decorations that you hang outside are not near any lit candles. Even a gentle breeze could blow the end of your decoration into the lit flame.


Keep pets indoors for the evening, especially cats. If your dog needs to go out, make sure you go outside with him or her. Pets get frightened easily on Halloween with all the strange looking visitors coming to their door and you don't want your pet to accidentally bite someone.


Light your doorway area and steps. It is easy for youngsters to trip and fall when wearing long costumes and masks that may obstruct their view. If your entrance requires people to walk up and down a long or steep flight of steps, be sure to provide lighting here as well.


Most adults usually go over safety tips with the little ones before they head out for their special night of fun, but can neglect checking for possible hazards in their own yard. Take the time this year to look around and remove obstructions and items that could cause injury to others. Then we can all have a safe and fun-filled Halloween this year!

(c) 2006. Rose Smith own HalloweenHowl.com a website filled with party ideas, costumes, decorating suggestions, games, graphics, crafts, Halloween safety tips, and more. It's Halloween fun for all ages! Come visit us at: www.halloweenhowl.com/ Article Source: http://EzineArticles.com/?expert=Rose_Smith
http://EzineArticles.com/?Home-Owners-Tips-For-Halloween-Safety&id=313683
this one is a joke, folks...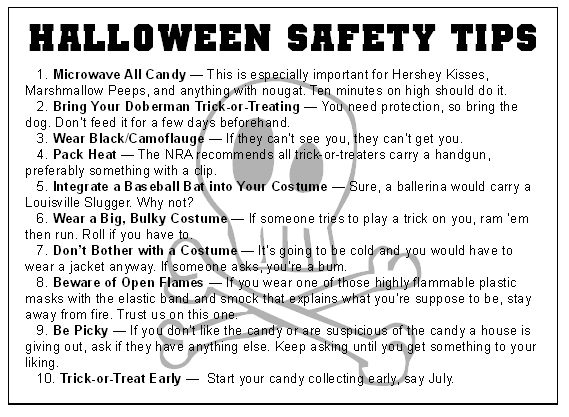 haha haha haha

be serious, and be safe out there !!!