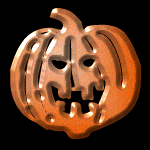 The Jack-o-lantern custom comes from Irish folklore. As the tale is told, a man named Jack, who was notorious as a drunkard and trickster, tricked Satan into climbing a tree. Jack then carved an image of a cross in the tree's trunk, trapping the devil up the tree. Jack made a deal with the devil that, if he would never tempt him again, he would promise to let him down the tree.
According to the folk tale, after Jack died, he was denied entrance to Heaven because of his evil ways, but he was also denied access to Hell because he had tricked the devil. Instead, the devil gave him a single ember to light his way through the frigid darkness. The ember was placed inside a hollowed-out turnip to keep it glowing longer.
The Irish used turnips as their "Jack's lanterns" originally. But when the immigrants came to America, they found that pumpkins were far more plentiful than turnips. So the Jack-O-Lantern in America was a hollowed-out pumpkin, lit with an ember. -- Jerry Wilson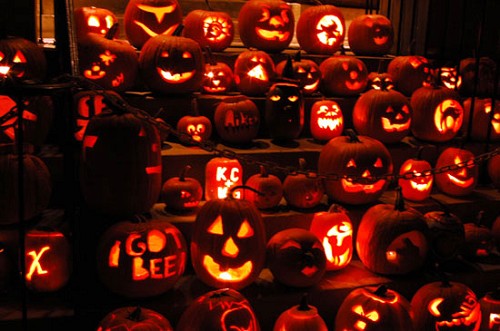 FUN PARTY IDEA - Have a "Pumpkin Carving Party" -
During a recent online chat with Snoo, she told me how she's having her 2nd annual carving party this year,
for her 10 year old daughter and about 5 friends.... I thought, what an adorable idea!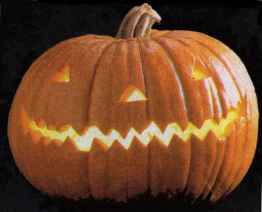 Make sure you have plenty of pumpkins for everyone, and all the tools necessary.

Include scrapers, spoons of all sizes, varied knives (depending on the ages of your guests), chisels,
straight pins, nails, construction paper, yarn, spaghetti works well for spiky hair - uncooked of course, sharpies to draw with, candles, glow sticks, drinking straws, stencils....

Keep the mess in check with plenty of Halloween plastic tablecloths on the tables and floor.

Provide plenty of bowls or trash bags to hold the stringy "guts".

If anyone's inspired, have them clean and roast the seeds from all the pumpkins during the party.

Simple Halloween decor is all you need - the real star of the party is the jack o'lanterns!

Encourage children to wear washable clothes,
no costumes are required for this simple halloween-time party

The carved pumpkins are perfect favors for everyone to take home,
or to plan the party on a budget, have everyone B.Y.O.P. bring your own pumpkin!
Or, provide all the pumpkins and require that the guests stop by halloween night to see their creation on display in your yard.
How's that for some free halloween labor trickery? ~ nancy
Jack O' Lantern Tips & Tricks

Select an unbruised pumpkin about the size and shape of your design.
Choose one that is smooth and evenly-colored
Make sure the pumpkin has a flat bottom so it sits upright.
Prepare your work area by covering it with newspaper.
Use an ice-cream scoop to clean out your pumpkin instead of bending your kitchen spoons.
For a unique jack-o'lantern, try using glow in the dark makeup or fake blood.
Insert a bowl into a carved pumpkin and add dry ice and warm water to create an extra spooky, smoke filled jack-o'-lantern!
Try acrylic paint instead of traditional knives to decorate your pumpkins.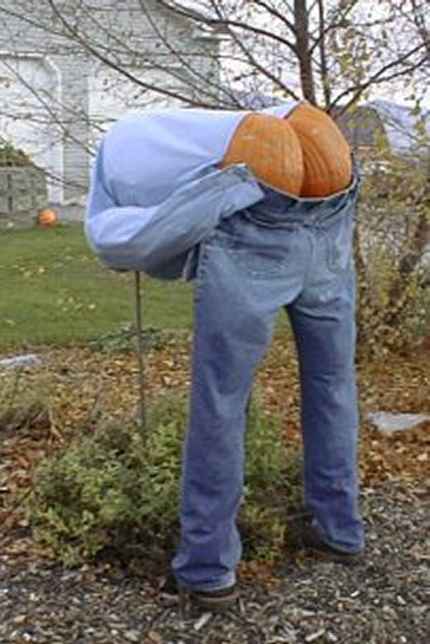 The Pumpkin Masters

Original Carving Patterns




Ever consider using artificial carvable pumpkins for your Autumn and Halloween displays?
They look so real you can not tell the difference. You carve them once and they last for years and years. When the season is over just store Fun-kins in their boxes for next year. Many pumpkin farmers are using Fun-kins for their displays.


You must see their site www.funkins.com
Six Flags in St. Louis. and Rawhide, Scottsdale, AZ were delighted after using them in their Halloween Displays this year. They were used in the L.L. Bean autumn catalog, Cracker Barrel autumn catalog, Tele-Tubbies autumn T.V. program and on the cover "Selling Halloween" Magazine.


Fun-Kins Synthetic Pumpkins

Pumpkin Bowling
Paint six 2-litre bottles to look like candy corn, and fill them half-full of water. Set up bales of hay for the edges of the "lane" ...
I also used a Halloween table cloth as the 'floor' of the bowling alley...

Choose pumpkins that are small to medium, and somewhat roundish. Give contestants a choice, and you'll need a few extra pumpkins, in case of breakage.
Let the kids roll pumpkins toward the bottles, and if they knock over all of them, they win a prize!
Click Here for Precision Pumpkin Carving Knives for Delicate Designs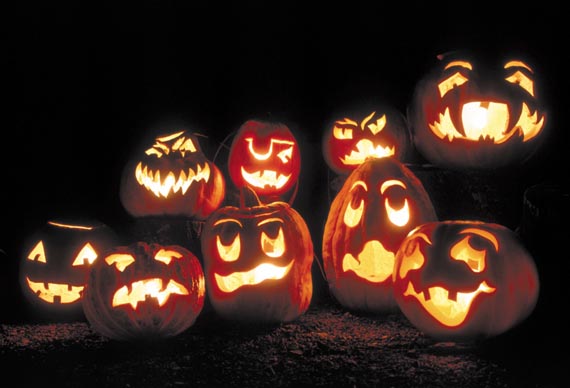 CARVING STENCILS:
Over the years, we have collected
over 350 printable jack-o-lantern stencils.


Email us a halloween idea, ghost story, or joke, or just a nice note ... and if we like it, we will send you the link to download as many stencils as you want.
Heck, as long as you aren't rude, we'll send you the link!
All submissions maybe used here at dumptv.com

more stencils:

Free pumpkin carving stencils, directions, and even myspace layouts, at Hershey' Trick or Treats.com

The Green Man, The Hanging Tree, Skeleclown and many more free patterns

The Rock N' Roll Heaven Collection Pumpkin Patterns

Kraft Foods - Free Pumpkin Stencils

SpookMaster - Online Pumpkin Carving Patterns
Free pumpkin carving patterns online and a large selection of subscriber patterns,
recipes, and games for Halloween. A large selection of patterns you won't find anywhere else.













How To Carve A Pumpkin For Halloween
By Brian G Johnson

If you just want to take a steak knife and hack out your every day pumpkin face, then this article is not for you. We're going to take a look at gourmet pumpkin carving for true Halloween connoisseurs. OK, maybe gourmet is a bit of overkill, but why settle for just another carved pumpkin when you can have a prize-winning jack-o-lantern instead?
Success starts with selecting your design
Before even thinking about buying or picking your Halloween pumpkin from the local pumpkin patch, you need to plan the design. You can take the easy way out and buy ready-made pumpkin stencils, or you can design your own.
There are some great on-line sources for free Halloween stencils that you can download and use, or you can hand sketch it. Here are two great places to grab some nice designs. If you're looking for a really unusual stencil, here's one that will drive you bats!
I'll cover how to transfer the pumpkin stencil to your favorite pumpkin after we take a look at actually selecting the pumpkin.
How to pick the perfect pumpkin
The pumpkin's shape and size will determine what type of patterns and designs you can use. If you are using pumpkin carving stencils then it is essential to purchase a pumpkin that matches the stencil's size requirements.
If you don't plan on using a stencil then make sure that your pumpkin is tall and wide enough for the free-hand design that you have in mind.
Look for a pumpkin that's not too ripe. It should be the right color orange and not have any soft spots or bruises. Look for a sturdy stem and never, ever lift the pumpkin by the stem. Sturdy or not, it's a short trip from "nice pumpkin" to splat.
Hold the pumpkin and smell it around the stem and top. If it smells very strong and "pumpkiny" then there is a chance that it's too ripe, pass it up and look for another. Thump the pumpkin and listen for a solid "thunk". A hollow sound is bad news.
Carry your pumpkin carefully and transport it home safely. A bruised pumpkin rots quickly and might not make it through the Halloween season.
How to prepare the pumpkin for its coming facelift
1. Cut a circle around the top of the pumpkin without damaging the stem.
2. Remove the top and put aside.
3. Remove and discard the pulp and seeds unless you want to make Vampire Fingernails snacks for your Halloween party.
4. With a putty knife or similar scraper, gently scrape down the inside of the pumpkin to remove any moist flesh clinging to the sides. Be careful not to damage the wall of the pumpkin.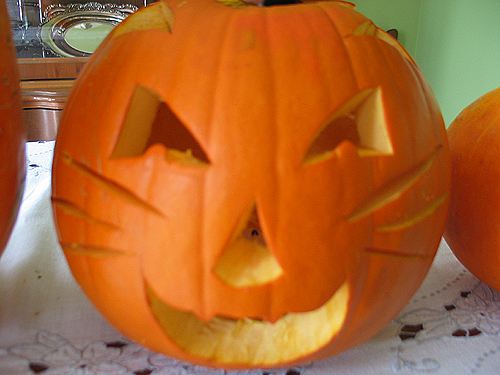 Now it's time to transfer the stencil
1. Wipe the outside of the pumpkin so that it is free of dust and other foreign material. If you need to wipe it down with a wet rag, allow it to become thoroughly dry before proceeding to the next step.
2. Tape the stencil to the side of the pumpkin that you have chosen to be the face. Tape the top left corner first, then the top right, bottom left and then bottom right. Smooth the stencil out as you are taping it. If you have to crease the stencil to make it lie flat then be sure to pick areas that are not part of the design.
3. Using an ice pick or a pin-point punch awl, gently poke holes through the stencil and into the pumpkin. Follow the lines of the stencil carefully. It's a lot like paying connect-the-dots games. Space the dots out however you see fit but remember that very complex designs are easier to work with if the holes are close together.
4. Check carefully to make sure that you have transferred the entire pattern and then remove the stencil. Keep the stencil handy to refer to in case you get confused while cutting.
Time to put your patient under the knife
Although many a pumpkin has fallen under the standard kitchen knife, it's both the wrong tool and a very dangerous tool for pumpkin carving. For best results get yourself an X-Acto knife with a #5 knife blade and a #15 keyhole saw. See your home store for both items.
Using the saw for long cuts and the X-Acto for the close-in and intricate cuts, just follow the pattern carefully and, before you know it, you'll have the pride of the pumpkin patch right there on your table!
Article from www.halloween-blog.com
Halloween-Blog.com for great Halloween Ideas, fun holiday recipes, spooky horror movie reviews and more!
Article Source: http://EzineArticles.com/?expert=Brian_G_Johnson
More Jack O'Lantern History
An Irish tale tells us where the origins of the name Jack o'lantern came from.
Mythical Origins of Jack O'Lantern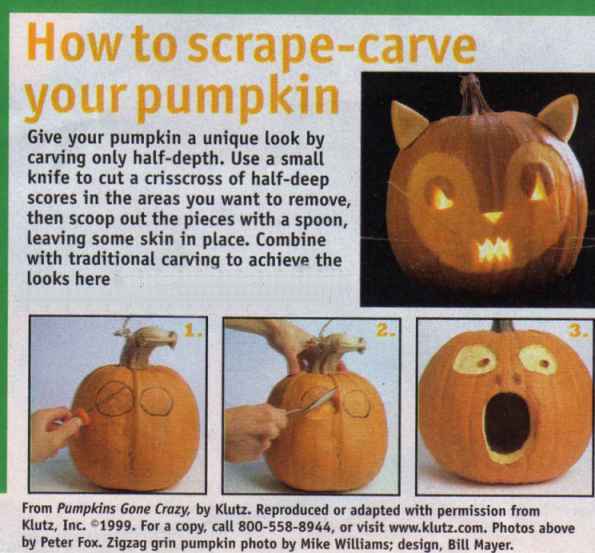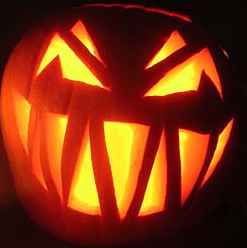 The Amazing Rainbow Pumpkin Light
www.pumpkinlights.com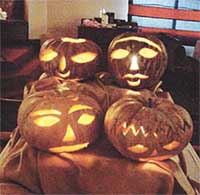 IDEA -We scrape the insides out of our pumpkins until the shell is almost paper thin. The scrapings are then processed to make pies. The lid is cut out and then using a large spoon held in the fist, the scraping is done on the inside firmly until quite thin. The thin-shelled pumpkin makes a great jack-o-lantern with its translucent hull and clever carving of eyes, nose, and mouth. -- Edward W
IDEA - When I carved out my pumpkin this year I took the seeds out and scattered them outside,
and and I watched the squirrels try to figure out what to do with them. The crows knew what to do.
The smallers birds didn't give the pumpkin seeds time of day. It made great fun for watching! -- Christiene Stevens
PUMPKIN PICKLES - This a friend's family recipe, and it's quite informal. He uses leftover Jack O'Lanterns.
Add to 2 cups sugar to 2 cups pickling vinegar, the finely minced zest of 1 lemon or lime, 2 cinnamon sticks, 1 tbsp cloves, 1 tbsp finely minced ginger.
Put it on the stove to boil. In the meantime, cut peeled pumpkin wedges into bite-sized chunks -- maybe 1/2 inch by 1 inch? your choice.
When the vinegar mixture is boiling, put in the pumpkin chunks. Keep it at a rolling boil.
When the pumpkin is a bit transparent around the edges & appears cooked to your taste, take it off the stove.
Pour into clean jars, cover & refrigerate when cool.
I don't think that the vinegar or the processing is enough to preserve the pumpkin without refrigeration.
It last quite a while in the fridge, but we usually eat it first! -- Alexis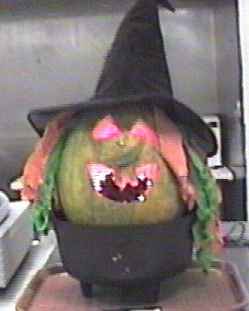 HELPFUL HINTS - Please be careful if you use carved Halloween pumpkins for cooking ... Making pies out of your jack-o'lanterns is fine, as long as you follow these guidelines:
1. You should carve them less than 24 hours before cooking them.
2. They should be kept at low temperatures outside, below 50 degrees F.
3. You should be careful to scrape out the candle wax!
4. You need to rinse them carefully and cut away burned bits.
Cut the pumpkins into chunks, at least 4 chunks per pumpkin. Discard the stem. Scrape out the seeds and stringy material and discard (or rinse and then toast the seeds in the oven and eat them). Caution: Do not attempt to put stringy pumpkin guts in your sink disposal! There are two ways to cook the pumpkin chunks: Bake the chunks, skin side up, on a cookie sheet at 400 degrees F for one hour. Alternatively, simmer the chunks in large pot for one hour. Careful: badly overcooked pumpkin, especially when boiled, disintegrates easily. Remove pumpkin chunks from the heat or the pot of water and let cool. When they are warm yet cool enough to handle, scrape the meat from the skin, and discard the skin. Mound all the pumpkin into a bowl. If you have extra pumpkin when you're done making pies. It's unavoidable, because it's very hard to tell exactly how much cooked pumpkin a raw pumpkin will give you.
Here are some ideas for using it up:
- Place it in a casserole dish, top with margarine or cheese, and bake for 20 minutes or until the cheese is brown. Serve as a side dish.
- Make an easy stew-like soup out of it.
- Use it in any recipe calling for squash, or use it in ravioli or lasagna as a substitute for cheese.
- Add a few tablespoons to bread or cookies.
- Freeze it immediately after cooking and use in future recipes.
-- Copyright 1995 by M. L. Grant.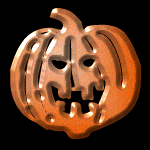 Toasted Pumpkin Seeds
a great use for those slimy seeds-
and a special treat for your "carving party"
Wash and dry the pumpkin seeds.
Preheat your oven to 350°F and place the seeds single layer on the cookie sheet.
Sprinkle the seeds with salt or your favorite spices.
Bake the seeds for approximately 30 minutes or until the seeds are golden brown.
Candied Pumpkin Seeds
From the Martha Stewart HOLIDAY magazine, Halloween 2004 Edition

2 cups raw fresh pumpkin seeds, rinsed and dried
1/2 tablespoon molasses
1/2 teaspoon ground cinnamon
1/4 teaspoon ground ginger
1/8 teaspoon cayenne pepper
Pinch of allspice
Pinch of ground cloves
Pinch of ground nutmeg
1/2 cup sugar

Preheat oven to 450, spread pumpkin seeds in a single layer on a rimmed baking sheet. Toast in oven until slightly darkened and fragrant, 5 to 7 minutes. Let cool.

Meanwhile, line a baking sheet with parchment paper or Silpat baking mat. Stir together molasses, cinnamon, ginger, cayenne, allspice, cloves, and nutmeg in a small bowl, set aside.

Pour a 1/4 cup water into a small heavy-bottom saucepan. Add sugar. Cook over medium-high heat, stirring occasionally until sugar is dissolved and syrup is clear. Continue to cook, without stirring, until mixture registers 300 degrees on a candy thermometer, washing down sides of pan with a wet pastry brush two or three times to prevent crystals from forming.

Immediately remove from heat. Gently stir in molasses mixture; add pumpkin seeds, stirring just to coat.

Working quickly, pour mixture onto lined baking sheet. Spread into an even layer with two wooden spoons. Let cool completely. Break into pieces. Enjoy!
Pumpkins are more than just decorations - they're low in fat and sodium,
rich in the vitamins and minerals essential to a healthy lifestyle, and taste good too…
Try one of these pumpkin recipes to sweeten up your Halloween.
Crunchy Pumpkin Pie
For Crust
1 cup quick cooking oats
1/4 cup whole wheat flour
1/4 cup ground almonds
2 tablespoons brown sugar
1/4 teaspoon salt
3 tablespoons vegetable oil
1 tablespoon water
For Filling
1/4 cup brown sugar, packed
1/2 teaspoon ground cinnamon
1/4 teaspoon ground nutmeg
1/4 teaspoon salt
1 egg, beaten
4 teaspoons vanilla
1 cup canned pumpkin
2/3 cup evaporated skim milk
Preheat oven to 425 degrees. To prepare crust: Mix oats, flour, almonds, sugar, and salt in small mixing bowl. Blend oil and water in measuring cup with fork or small wire whisk until emulsified. Add oil mixture to dry ingredients and mix well. If needed, add small amount of water to hold mixture together. Press into 9-inch pie pan, and bake for 8–10 minutes, or until light brown. Turn down oven to 350 degrees. To prepare filling: Mix sugar, cinnamon, nutmeg, and salt in bowl. Add egg and vanilla, and mix to blend ingredients. Add pumpkin and milk, and stir to combine. Putting it together: Pour filling into prepared pie shell. Bake for 45 minutes at 350 degrees or until knife inserted near center comes out clean.
Nutrition facts: Makes 9 servings; Serving Size 1/9 of 9-inch pie; Calories 169; Fat 7 g; Cholesterol 24 mg; Sodium 207 mg; Fiber 3 g; Protein 5 g; Carbohydrates 22 g
Pumpkin Bread
1 can (15 ounce) pumpkin
1 cup sugar
1/4 cup vegetable oil
1 cup yogurt, plain lowfat
1 1/2 cups all purpose flour
1 1/2 cups whole wheat flour
2 teaspoons cinnamon
1/2 teaspoon salt
2 teaspoons baking powder
2 teaspoons baking soda
1 cup raisins
Preheat oven to 350 degrees. In a large mixing bowl, beat together pumpkin, sugar, oil, and yogurt. In a medium bowl, combine the flours, baking powder, soda, cinnamon, and salt; add to pumpkin mixture, stirring until just moistened. Stir in raisins. Pour into 2 greased 9x5x3 inch loaf pans and bake for about 1 hour. Cool on a wire rack for 10 minutes; remove from pan and cool completely. Note: Substituting yogurt for eggs and oil reduces fat and cholesterol.Nutritional facts: Makes 32 servings; Serving Size 1 slice; Calories 110; Fat 2g; Cholesterol 0 mg; Sodium 150 mg; Fiber 1 g; Carbohydrate 21g; Protein 2g; Sugars 10g
Perfect Pumpkin Pancakes
2 cups flour
2 tablespoons brown sugar
1 tablespoon baking powder
1 1/4 teaspoon pumpkin pie spice
1 teaspoon salt
1 egg
1/2 cup canned pumpkin
1 3/4 cup milk, lowfat
2 tablespoons vegetable oil
Combine flour, brown sugar, baking powder, pumpkin pie spice and salt in a large mixing bowl. In a medium bowl, combine egg, canned pumpkin, milk and vegetable oil, mixing well. Add wet ingredients to flour mixture, stirring just until moist. Batter may be lumpy. (For thinner batter, add more milk). Lightly coat a griddle or skillet with cooking spray and heat on medium. Using a ¼ cup measure, pour batter onto hot griddle. Cook until bubbles begin to burst, then flip pancakes and cook until golden brown, 1 ½ to 2 ½ minutes. Repeat with remaining batter. Makes about 1 dozen 3 ½ inch pancakes. Nutritional facts: Makes 12 servings; Serving Size 1 pancake; Calories 130; Fat 3g; Cholesterol 20 mg; Sodium 340mg; Carbohydrate 21g; Fiber 1g; Protein 4g; Sugars 4g
Sources:
Crunchy Pumpkin Pie recipe from the National Heart Lung and Blood Institute, Keep the Beat - Heart Healthy Recipes; www.nhlbi.nih.gov
Pumpkin Bread recipe from the U.S. Department of Agriculture, Adapted from Food for Fitness and Fun, November 2000 Iowa State University Extension; http://recipefinder.nal.usda.gov
Perfect Pumpkin Pancakes from the U.S. Department of Agriculture, Adapted from Kids a Cookin', Kansas Family Nutrition Program; http://recipefinder.nal.usda.gov













Jack-o'-Lantern Plush and Pin with Cards Set
"These perky pumpkins are pleasing gifts for all ages! The tack pin, 18K gold-plated with a glossy enamel finish, is a pretty addition to any fall outfit. And the soft chenille plush pumpkin with floppy arms and legs is a huggable friend that kids will love. Each comes with a coordinating gift card. Pin, 1 7/8"" x 1 7/8""; plush, approx. 7"" x 4"". Pin gift card reads: Of all the pumpkins in the patch, God specially picked you-He had a certain plan in mind, and only you would do. He scooped out any yucky seeds of sinful qualities, Then carved distinctive features and your personality. He put a smile upon your face and placed His light inside, So you can let His love shine out to all the world with pride! May this gift be a bright reminder that you reflect God's love and light to all those around you. Back of plush gift card reads: May this gift be a bright reminder that you reflect God's love and light to all those around you."
Jack-o'-Lantern Plush and Pin with Cards Set